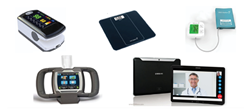 FCC's focus on telehealth and remote monitoring validates what we at PMD Healthcare have known for a long time — that health starts wherever patients are, and that maintaining good health simply cannot be limited to the four walls of a hospital or physician's office
LANSDALE, Pa. (PRWEB) April 24, 2020
PMD Healthcare, an innovative remote patient monitoring (RPM) and telehealth company that has been serving the healthcare industry for more than a decade, has announced that its remote healthcare solutions meet the criteria for devices that fall within the Federal Communications Commission's (FCC) new COVID-19 Telehealth Program.
On April 10, the FCC announced its COVID-19 Telehealth Program, which provides $200 million to healthcare providers as part of the CARES Act, the $2 trillion economic relief package signed into law on March 27. The program is intended "to help health care providers furnish connected care services to patients at their homes or mobile locations in response to the COVID-19 pandemic," the FCC said in a press release.
"FCC's focus on telehealth and remote monitoring validates what we at PMD Healthcare have known for a long time — that health starts wherever patients are, and that maintaining good health simply cannot be limited to the four walls of a hospital or physician's office," says Wayne Meng, CEO and founder of PMD Healthcare. "Now that our health systems are overwhelmed and social distancing is paramount, we must do what we can to help healthcare providers achieve their mission of helping and healing patients in innovative ways. And we believe remote patient monitoring is the key."
PMD Healthcare's RPM kits include Bluetooth-enabled, patient-friendly medical devices that capture biometric data (oximetry, spirometry, temperature, blood pressure and weight), as well as a tablet equipped with telehealth capabilities. The kits wirelessly transmit data to PMD Healthcare's secure, HIPAA-compliant web portal and help health providers assess symptoms, manage medications and educate patients. Additionally, the respiratory kit includes a digital spirometer — Spiro PD, the first-ever personal spirometer approved by the U.S. Food and Drug Administration — to measure lung function, which many RPM solutions lack.
PMD Healthcare applauds the current administration and the FCC for prioritizing remote healthcare, including telehealth services and remote patient monitoring devices. Remote healthcare options can help hospitals and providers manage the current COVID-19 crisis in several ways:

Reduce the spread of infection by preventing unnecessary visits to providers' offices and hospitals
Preserve staff resources and personal protective equipment (PPE) for those with the greatest need
Improve outcomes for those with chronic diseases and others in high-risk groups by monitoring symptoms, vital signs, and medication adherence closely between healthcare visits, alerting physicians and healthcare providers if intervention is needed
"Given the importance of social distancing, telehealth is more important than ever, so we are pleased to do our part to help healthcare providers purchase telecommunications, broadband connectivity, and devices necessary for providing connected care," the FCC press release noted. Hospitals and health systems can apply for the FCC program online.
About PMD Healthcare
PMD Healthcare is an industry-leading, fully integrated remote patient monitoring and telehealth company that helps physician groups, home health agencies and hospitals improve patient outcomes by monitoring patient health between healthcare visits. PMD Healthcare was founded in 2010 with the development of the first-ever FDA-approved personal spirometer, Spiro PD. Today, PMD Healthcare offers several RPM kits targeted to particular patient populations, including those with CHF, COPD, diabetes and hypertension. Remote patient monitoring can result in cost-savings and increased reimbursement for physicians, as well as better coordinated care. Discover more at pmd-healthcare.com.