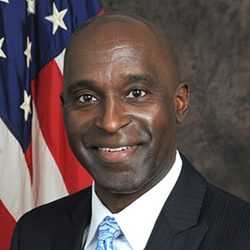 BETHESDA, Md. (PRWEB) February 11, 2020
The International Society for Pharmaceutical Engineering (ISPE) announced Alonza Cruse, Director, Office of Pharmaceutical Quality Operations, FDA/ORA, as a newly confirmed keynote for the 2020 ISPE Aseptic Conference, taking place 2–3 March 2020 in North Bethesda, Maryland.
His office is responsible for all pharmaceutical quality inspections and investigations, working in conjunction with the FDA's Center for Drug Evaluation & Research and the Center for Veterinary Medicine. Additionally, he is leading ORA's pharmaceutical collaboration efforts under the Program Alignment initiative.
Alonza Cruse will provide current regulatory perspectives on aseptic processing during his keynote presentation. He is also a featured panelist in the Interactive Regulatory Panel session, where he will answer the most pressing quality and regulatory questions directly with six FDA colleagues, including:

Brooke Higgins, Senior Policy Advisor, Office of Manufacturing Quality, Division of Drug Quality, FDA/CDER/OC/OMQ
Christine Harman, PhD, Chemist, Review Branch 1, FDA
Jie He, Facility Inspection and CMC Review Branch 2, US FDA
Richard Friedman, Deputy Director, Science and Regulatory Policy, FDA/CDER
Robert Sausville, Director, Div. Case Management, FDA/CBER/OMPT/OCBQ
Zhihao Qiu, PhD, Director (Acting), Office of Pharmaceutical Manufacturing Assessment, FDA/CDER/OPQ/OPF
Now in its 29th year, the 2020 ISPE Aseptic Conference has established itself as the pharmaceutical industry's leading source on advancing aseptic and barrier operations and providing invaluable opportunities for peer-to-peer learning through interactions with industry and regulatory leaders.
To explore the agenda and to register, please visit ISPE.org/Aseptic20.
About ISPE
The International Society for Pharmaceutical Engineering (ISPE) is the world's largest not-for-profit association serving its members through leading scientific, technical, and regulatory advancement across the entire pharmaceutical lifecycle. The 18,500 members of ISPE are building solutions in the development and manufacture of safe, effective pharmaceutical and biologic medicines, and medical delivery devices in more than 90 countries around the world. Founded in 1980, ISPE has its worldwide headquarters and training center in North Bethesda, Maryland USA, and its operations center in Tampa, Florida USA. Visit ISPE.org for more information.
For more information, contact:
Amy Henry
Marketing Communications Manager
International Society for Pharmaceutical Engineering (ISPE)
Tel: +1-813-960-2105
Email: ahenry@ispe.org
ISPE.org