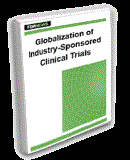 Falls Church, VA (PRWEB) February 14, 2014
Globalization of Industry-Sponsored Clinical Trials:
Latest Insight on Shifts in Sites Among Regions
**FDAnews Management Report**
http://www.fdanews.com/GlobalizationSponsoredCT
More and more frequently, pharma companies are sending their research into less experienced countries and regions.
Too often with mixed results.
Don't mess with the company's success … Here's a first-of-its-kind report, designed specifically to help better assess and select the next clinical trial location.
Noted clinical trial statistician Dr. Johan Karlberg has collected and analyzed 7 years of industry-sponsored clinical trial data to help identify which countries and regions are the best choices for hosting clinical trials now … as well as the long-term outlook for multiyear studies.
Here are just a few examples of the invaluable findings drugmakers will want to consider:

An average of 2,045 Phase II and II trials were initiated annually, representing 54.8 percent of all industry-sponsored trials included in the U.S. trial registry.
The U.S. contributed 41.2 percent of all sites over the seven-year study period, while the rest of the top 10 countries together contributed 29.9 percent of sites.
China and New Zealand both climbed 8 places in the rankings of the top 60 countries. However, India fell 10 positions.
Asia showed a clear trend of increasing growth over the first five years of the study period, then lost 2 percent in the last two years. Eastern Europe, the largest emerging region, also lost 2 percent in the last two years.
North America is the only location with proportionately more Phase II than Phase III trial sites. 50.4 percent of all Phase II trial sites are located to North America, compared to 42.2 percent of all Phase III trial sites.
The European country with the largest drop in the number of trial sites, without any clear sign of recovery, is Germany, down from 6.90 percent to 5.14 percent over the seven years of observation.
Dr. Karlberg has devoted hundreds of hours to digging out and parsing these figures on global industry-sponsored clinical trials — so pharma companies don't have to. Readers can also count on this new report to learn in greater detail about:

Global average number of clinical trials, sites and participants
Average cost of conducting a clinical trial, by trial phase
The top 10 countries hosting clinical trials
Which countries/regions are increasing clinical trial activity and which are decreasing it
Trends in the number of new trials initiated annually
Which countries stand out as emerging clinical trial players — and which are faltering
What problems plague trials in Latin American countries
And much more
With these invaluable results and Dr. Karlberg's conclusions about the future of trial globalization, pharma companies have an incredibly powerful tool to help them better understand the clinical trial climate globally — and how it is trending — in order to select the best international locations for trial sites.
Who Will Benefit:

Pharmaceutical company executives
Clinical investigators
Clinical professors
Clinical research coordinators (CRCs)
Clinical research associates (CRAs)
Clinical data managers
Research nurses
Medical directors
Project managers
Study site auditors
Medical statisticians
Meet the Author:
Dr. Johan P.E. Karlberg has worked in academia and clinical research for more than three decades and is the founder and editor of Clinical Trial Magnifier, a weekly report on news about the globalization of clinical research. He is also the vice president for site development and support at the Alliance for Clinical Research Excellence and Safety (ACRES).
Dr. Karlberg served for 12 years as director/professor of the Clinical Trials Centre at the University of Hong Kong, during which time he was involved in contracting 640 global industry-sponsored clinical trials.
Publication Details:
Globalization of Industry-Sponsored Clinical Trials:
Latest Insight on Shifts in Sites Among Regions
**FDAnews Management Report**
http://www.fdanews.com/GlobalizationSponsoredCT
Format: Print or CD
Price: $397
Easy Ways to Order:
Online: http://www.fdanews.com/GlobalizationSponsoredCT
By phone: 888-838-5578 or 703-538-7600
About FDAnews:
FDAnews is the premier provider of domestic and international regulatory, legislative, and business news and information for executives in industries regulated by the US FDA and the European Medicines Agency. Pharmaceutical and medical device professionals rely on FDAnews' print and electronic newsletters, books and conferences to stay in compliance with international standards and the FDA's complex and ever-changing regulations.