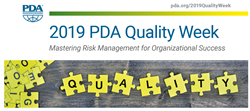 PDA's Quality Week promises to be one today's most comprehensive programs addressing quality risk management (QRM).
BETHESDA, Md. (PRWEB) November 05, 2019
The Parenteral Drug Association (PDA) today announced the participation of U.S. FDA Center for Drug Evaluation and Research Director (CDER), Janet Woodcock, MD, and Johns Hopkins University researcher and author, Thomas Stanton, MA/JD, as keynote speakers for the 2019 PDA Risk Management in the Regulatory Landscape Conference, at the Capital Hilton, Washington, DC, Dec. 9–10. The conference is the first of three during PDA's first "Quality Week."
Dr. Woodcock has served as the CDER Director since 2008 and has been instrumental in the formation of the CDER Office of Pharmaceutical Quality, led the Pharmaceutical Quality for the 21st Century Initiative, and has championed the role of risk management in pharmaceutical manufacturing and regulation. She will discuss how FDA currently views the application and future potential of risk-management approaches, explore if the full potential of quality risk management has been realized, and address the role of the International Council for Harmonisation of Technical Requirements for Pharmaceuticals for Human Use (ICH) quality guidelines on risk management (ICH Q9) and quality systems (ICH Q10).
Thomas Stanton teaches at the Johns Hopkins University and is the past president of the Association for Federal Enterprise Risk Management. He has authored and co-authored numerous studies on risk management in the public sector, including Enterprise Risk Management (ERM): A Powerful Federal Management Tool. He will discuss the journey of introducing and establishing acceptance of ERM within the U.S. federal government.
PDA's Quality Week promises to be one today's most comprehensive programs addressing quality risk management (QRM). On Dec. 11, Quality Week continues with 2019 PDA Building a Foundation for Quality Risk Management Integration Workshop, and on Dec. 12–13 with 2019 PDA Optimizing Quality Risk Management Conference.
More information on these events can be found at http://www.pda.org/2019QualityWeek.
Members of the press are welcome to apply for a press pass. https://www.pda.org/about-pda/press-pass-request-form.
###
About PDA – Connecting People, Science and Regulation®
The Parenteral Drug Association (PDA) is the leading global provider of science, technology and regulatory information and education for the pharmaceutical and biopharmaceutical community. Founded in 1946 as a nonprofit organization, PDA is committed to developing scientifically sound, practical technical information and resources to advance science and regulation through the expertise of over 10,500 members worldwide. Go to http://www.pda.org/footer/about-pda to learn more.