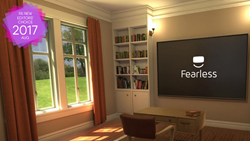 VR has proven abilities to help people improve their psychological and emotional well-being, and Fearless is a pioneer in bringing these kinds of benefit to the public. - Lisa Padilla, Founder & CEO of NewPathVR
San Francisco, CA (PRWEB) August 09, 2017
NewPathVR is proud to announce that this month's RE:NEW Editors' Choice Award goes to Fearless, a virtual reality product focused on helping people overcome phobias and fears. Fearless was chosen for its leadership role as one of the first commercially available VR products to demonstrate the transformative power of VR for use for psychological wellness.
Many people have successfully overcome phobias using Fearless. The product currently has modules for three phobias: spiders (arachnophobia), cock roaches (katsaridaphobia), and bees (apiphobia). Fearless is based on the proven effectiveness of exposure therapy as the most effective treatment for phobias. Fearless is currently available for Oculus Rift and Samsung Gear VR.
"Products like Fearless represent the kind of innovation we love to see because the developers are applying the transformative powers of virtual reality with the psychological skills and tools that help people address their personal development," said Lisa Padilla, the founder and CEO of NewPathVR. "We encourage VR creators to think about the psychological and emotional issues that affect people and learn what would improve their lives from a personal development standpoint. VR has proven abilities to help people improve their psychological and emotional wellbeing, and Fearless is a pioneer in bringing these kinds of benefit to the public."
"Fear limits our actions and experiences. We evolved fear to protect us from danger, but often our fears are out of whack with our current reality," said Tim Suzman, Founder of Fearless. "If unwanted fears were eliminated, I think people could lead more fulfilling lives."
NewPathVR is presently focused on products for the consumer wellness market, particularly for stress and anxiety. The company is working on products that help build skills for mindfulness, emotional regulation and interpersonal effectiveness. "We are very excited to get these innovative skills into the hands of people," said Padilla, "and change lives for the better." "Stress is a $300 billion cost to the US alone so we think we can make a large economic impact as well."
Find wellness apps such as Fearless at http://www.RenewVR.com.
About NewPathVR:
NewPathVR is the creator of personal development and emotional intelligence applications in virtual reality. The company uses research-based methods to create wellness applications for VR with the goal of evoking positive change through transformative technology. The company's VR wellness portal, RenewVR, is the only site dedicated to VR wellness products.