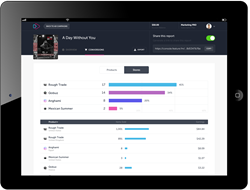 "Feature.fm plays a part in all of our digital marketing campaigns. The onboard analytics tools have helped us track the effectiveness of our efforts, while gaining a better understanding of our audience" - Ben Houston, Mexican Summer
NEW YORK (PRWEB) July 08, 2020
Feature.fm, the leading music marketing platform, has launched conversion and attribution data reporting. The reporting allows its customers to track sales revenue and streams from their D2C stores as well as from Feature.fm's data partners including Rough Trade, Anghami, and Qobuz. The revenue and streaming data reporting is just the latest addition to the Feature.fm analytics dashboard.
The new data reporting is already being used by a handful of Feature.fm's customers, including independent record label, Mexican Summer, which uses the tool to track sales conversions in its own D2C store.
"Feature.fm plays a part in all of our digital marketing campaigns. The onboard analytics tools have helped us track the effectiveness of our efforts, while gaining a better understanding of our audience" - Ben Houston, Operations Manager, Mexican Summer
Any artist or label that has a direct to consumer store can take advantage of Feature.fm's conversion data reporting to track their sales. By adding a simple pixel from Feature.fm to their store, artists and labels can view their conversions and sales reporting in Feature.fm.
In addition to D2C store integrations, a new partnership with Rough Trade now allows Feature.fm's customers to track conversions from their marketing campaigns to sales of vinyl and other physical merchandise. Items sold on Rough Trade and through D2C stores generally drive higher revenue for artists and labels. Rough Trade is a premier outlet for pre-order and physical sales, especially for the indie community, and this level of insight helps music marketers optimize their campaigns for higher revenue. Feature.fm is the leading online marketing platform for the independent music community, which is a market that benefits more significantly from these higher ticket sales. Consequently, this partnership represents an important step towards supporting independent music.
"Ever since we first opened our doors back in 1976, Rough Trade (not to be confused with Rough Trade Records) has been an 'artist community' retailer, where artists buy records, in turn, where they like their records to be sold. We continue that tradition today, aiming to provide 'best in class' vinyl retail across the globe, via our online e-commerce platform and transatlantic fulfillment locations. Our partnership with FFM further evolves our label and artist community role, highlighting specifically the value of conversion data. Overall, we're delighted to be able to embed our vinyl retail expertise into the FFM product, with the aim of adding value for all." - Stephen Godfroy, Rough Trade, Co-Owner
Feature.fm is also integrating two streaming partners in the launch of the new offering. Anghami and Qobuz have both partnered with Feature.fm as initial streaming data partners to allow Feature.fm customers to attribute streams back to their Feature.fm marketing campaigns. By opening up access to this data, Qobuz and Anghami are helping marketers to see exactly which marketing channels result in more streams and fans within their respective platforms. Qobuz has become a premium high-fidelity streaming option for fans in search of greater sound quality while Anghami boasts over 70MM users, making it the #1 streaming music platform in the Middle East and North Africa.
"Anghami is happy to partner with Feature.fm. Our aim is to provide artists and marketers with tools and data that can help them get to know their fans better and understand how their music is performing on Anghami." - Mohammed Al Ogaily, VP Product, Anghami
"We are excited to partner with Feature.fm to unlock deeper insights for artists and marketers to better understand how fans are engaging with their music on Qobuz" - Dan Mackta, Managing Director, Qobuz USA
While conversion data reporting is available to Feature.fm's respective Artist Pro and Business Pro plans, the easy-to-install pixel makes it accessible for any artist of any size to begin tracking sales on their official stores as well as for any music service to begin reporting data to Feature.fm.
"Conversion data reporting helps marketers ensure that they are earning the highest ROI on their marketing efforts. We are excited to work with Rough Trade, Anghami and Qobuz to launch this offering to Feature.fm's music marketing community and look forward to expanding Feature.fm's data partners. " - Dan Sander, CCO Feature.fm.
ABOUT FEATURE.FM
Feature.fm is a comprehensive data-driven marketing, advertising and audience management suite for the music industry. Feature.fm makes it easy for labels and artists to connect with fans all over the world, in hundreds of music platforms while getting access to intelligent data management. Tens of millions of music fans engage with the thousands of artists across Feature.fm's marketing suite every month. For more information, visit feature.fm