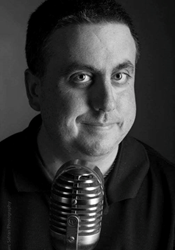 Let me carve out a distinctive niche for you in the music industry....maintaining a reputation for putting the interests of my artists above all else. Effort plus hard work will lead to RESULTS! An opportunity to expand your brand in ways you never thought possible
SYRACUSE, N.Y. (PRWEB) September 03, 2018
Having been a radio personality and award winning music director for 25 years, Cohen enjoyed the opportunity to work with radio promoters and artists, in addition to hosting many festivals and special events from concert halls to intimate venues. Embarking on an exciting new chapter seemed to be the natural progression to his longtime dream. This new quest, allows for continued work with established artists, as well as those who are trying to get their music heard for the first time in a live setting and to get them discovered worldwide.  Eric has a vast network of resources and plans on tapping those resources to produce results for his clients. 
Some of Eric's clients include: Harry Allen, Giacomo Gates, Bob Holz, Ronnie Leigh, Nicki Parrott and Hilary Scott with new acts being added as EC Music Agency grows.
"Let me carve out a distinctive niche for you in the music industry....maintaining a reputation for putting the interests of my artists above all else.  Effort plus hard work will lead to RESULTS!  An opportunity to expand your brand in ways you never thought possible," says Cohen.
Outside of being a radio personality and Music Director, Eric Cohen is known for hosting festivals, special events, fundraisers and the like etching his signature voice coupled with pumping up a crowd, to creating the excitement for the musical presentations he hosts. This too will be a part of the business offerings of the EC Music Agency.
"Having done radio myself, I particularly enjoyed working with Eric Cohen to brand the scope of what was EC Music Agency's mission statement. I was impressed with the way Eric shared his vision and how I captured it in physical form through the design of his website. I just had to support and feature this quest with the knowledge that it only takes one voice to stir up a pot. Eric is just that person equipped for the call to spearhead light for his clients and give a voice to their artistry," says Jaijai Jackson of The Jazz Network Worldwide.
Be sure to come by and visit EC Music Agency's new website at http://www.ecmusicagency.com and connect with Eric for your next festival or event. In addition, stop by The Jazz Network Worldwide at http://www.thejazznetworkworldwide.com to enjoy the EC Music Agency feature.
follow EC Music Agency on social media:
Facebook: https://www.facebook.com/ECMusicAgency-502334750232320/?modal=admin_todo_tour
Linkedin: https://www.linkedin.com/in/escohen/
Twitter: https://twitter.com/search?q=%40ecmusicagency&src=typd