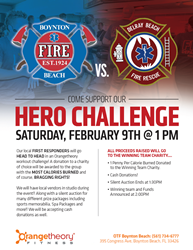 BOYNTON BEACH, Fla. (PRWEB) January 04, 2021
The Orangetheory Fitness studios of Boynton Beach and East Delray Beach will host their annual "Hero Challenge" on February 9, featuring the heroes of the Boynton Beach and Delray Beach Fire Departments.
WHAT:
Members from the two local fire departments will compete head-to-head in one of Orangetheory Fitness' signature workouts to see which team burns the most overall calories, using the studio's electronic monitoring equipment.
Orangetheory will donate one penny per calorie burned to the charity of the winning team's choice.
WHO:
Orangetheory Fitness studios of Boynton Beach and Delray Beach East, featuring:
Boynton Beach Fire Department
Delray Beach Fire Department
Representatives from all organizations will be available for interviews.
WHEN:
Saturday, February 9, 2019 at 1 -2:30 p.m. EST
After the 50-minute workout, the total calories will be tallied, and the winner will be announced at 2 p.m.
WHERE:
Orangetheory Fitness of Boynton Beach studio
395 Congress Ave
Boynton Beach, FL 33426
The event is open to the public and will include a silent auction, featuring sports memorabilia, spa packages and more. All proceeds raised will go to the winning team's charity, with cash donations also accepted. The silent auction will end at 1:30 p.m.
Several local business vendors also be in attendance to support the fundraising event.
MEDIA: All media interested in attending the event should contact Matthew Carswell at matthew@Redbanyan.com.
About Orangetheory Fitness:
Orangetheory® Fitness (http://www.orangetheoryfitness.com) is a scientifically designed, one-of-a-kind, group personal training workout broken into intervals of cardiovascular and strength training. Backed by the science of excess post-exercise oxygen consumption (EPOC), Orangetheory's heart-rate-monitored workouts are designed to get participants within the target-training zone of 84 percent to 91 percent of their heart rate, which stimulates
metabolism and increases energy. Led by highly skilled coaches, each Orangetheory Fitness
workout incorporates endurance, strength and power elements through a variety of equipment
including such as rowing machines and free weights. The end result is more energy, visible toning and the 'Orange Effect' – where participants keep burning calories for up to 36 hours post-workout (the Orangetheory Fitness 'afterburn') for an average of 500+ total calories burned per every 60-minute workout. The company was ranked #60 in Inc. magazine's Fastest Growing Private Companies List and #225 in Entrepreneur's 2016 Franchise 500® list of the top franchises in the world.