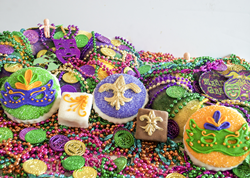 According to fifth generation baker, Bobby Jucker, "We went to Louisiana during Mardi Gras season several years back and refashioned our King Cakes to be similar to those in Louisiana. Now we feel honored because many from Louisiana say ours is just as good as back home."
HOUSTON (PRWEB) February 12, 2020
The month began in the midst of Mardi Gras season, and Three Brothers Bakery has already been selling their King Cakes fashioned after those found in Louisiana. According to fifth generation baker, Bobby Jucker, "We went to Louisiana during Mardi Gras season several years back and refashioned our King Cakes to be similar to those in Louisiana. Now we feel honored because many from Louisiana say ours is just as good as back home."
Next, of course, is Valentines Day where the bakery is having a "Decorating with Love" class for you and a loved one on February 12th. Couples will learn to decorate a cake while having a special time together. The goal is for them to have a "lovely" cake to share on Valentines Day. The cost per couple is $45. The bakery will be making their Valentines baked goods and the return of the anti-Valentines products will be in the cases as well.
February 16th brings the 8th anniversary of the bakery's Memorial City location at 12393 Kingsride Lane, near Memorial City Mall. Free cake, while supplies last, will be shared with guests beginning at 12pm and a special promotion of 8 cookies for $8 will be made at the Memorial location only.
February 25th is Fat Tuesday, and Three Brothers Bakery expects this year to be a banner year for king cakes based on purchases during the lead up to the holiday. King Cakes will be plentiful in store, but customers can also order online to be sure they get their special flavor.
Three Brothers Bakery will end the month Leap Day, February 29th, 2020, with a special promotion. With each purchase, the guest will be given a coupon which will be good for $29 off their purchase on Leap Day 2024. On February 29, 2024, they can present the coupon for the $29 discount. It will be an in-store only promotion and available at all stores. Bobby Jucker is telling guests, "do not plan a vacation for February 29, 2024, because your coupon is only going to be good on that day. We plan to be here on February 29, 2024, and we hope you will be, too."
About Three Brothers Bakery -
The traditions of Three Brothers Bakery began in Chrzanow, Poland, circa 1825 and were preserved despite the family's concentration camp imprisonment during the Holocaust. Their miraculous liberation, and subsequent move to Houston in 1949, brought Eastern European scratch baking traditions to the city. The owners are now proud to call themselves "memory makers who happen to be bakers®." Perfecting the process for almost 200 years, each day the fifth generation scratch bakers produce a full line of breads, pastries, cookies, pies, cupcakes, breakfast pastries and more.
The Three Brothers Bakery pecan pie was named "the Best Mail Order Pecan Pie America has to offer" by Country Living magazine multiple times; bakery owner, Bobby Jucker, competed in the popular 'Food Network Challenge' and has been seen on Food Network's Outrageous Food and other national food shows. Three Brothers Bakery won "Best Mail-Order Pies 2012" from Bon Appetit, as well as Modern Baking's "2013 Retail Bakery of the Year" and was part of The Knot's Best of Weddings" and "Hall of Fame" picks. In 2019, the bakery won the SBA's Family-Owned Small Business of the Year by the Houston division. Three Brothers Bakery was named one of "America's 20 Best Bakeries" by The Daily Meal in 2016 and in 2017 blue ribbon champion at the American Pie Council's National Pie Championship for their key lime pie in that category, and the bakery's Pumpecapple Pie Cake has been featured on BuzzFeed's 'Worth It' web series, The Food Network, The Cooking Channel and Travel Channel.
In 2018, Three Brothers Bakery received the SBA Phoenix Award for Small Business Disaster Recovery and encourages everyone to "shop disaster zones" to help small businesses recover after natural disasters.
Follow Three Brothers Bakery on Facebook and Twitter for Houston area news, information and events.