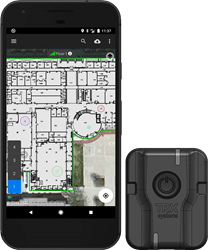 GREENBELT, Md. (PRWEB) August 15, 2018
TRX Systems, developer of NEON® Indoor Location Solutions, and Federal Resources, a leading provider of mission-critical solutions to military and first responders, today announced a distribution partnership that enables Federal Resources to promote and resell NEON Personnel Tracker, TRX's 3D mapping, location and tracking solution, to their customers worldwide.
NEON® Personnel Tracker is a mission critical 3D mapping and tracking solution that improves operational efficiency, command effectiveness and safety for industrial, security, public safety, and defense applications. Personnel Tracker delivers seamless indoor and outdoor 3D location and tracking for personnel operating indoors, underground, and in other GPS-denied environments. Federal Resources will market and distribute NEON solutions and technology to customers within military, federal, state, and local markets.
"For more than 20 years, Federal Resources has demonstrated the ability to leverage resources, expertise, and technology to create industry-leading solutions," said Jeff Kunst, Vice President of Product and Business Development at TRX Systems. "This new partnership with Federal Resources represents a strategic opportunity for TRX to accelerate awareness of our patented NEON Solutions across Federal Resources' broad footprint of military and government customers."
"Improving effectiveness and keeping military and first responders safe on the front lines are key parts of Federal Resources' mission," said Robert McWilliams, President of Federal Resources. "TRX's unique technology represents a perfect complement to our existing solutions in tactical, C4ISR, critical infrastructure, and first responder markets."
Want to learn more about TRX Systems and NEON Personnel Tracker? Visit the Federal Resources team at Booth (#456) at ASIS in Las Vegas, NV this year. The team will be showcasing the latest innovative tactical equipment and technologies that can assist you on your next mission.
For more information, please contact:
Sarah Rampmeyer
Sarah.Rampmeyer(at)federalresources.com
About Federal Resources
Founded in 1986, Federal Resources is a leading provider of quality products and mission-critical solutions that support the U.S. Military, Federal Government, State/Local Responders, and International Markets. Specializing in comprehensive life-cycle sustainment solutions; procurement and acquisition; technical services and asset management; and training expertise, the organization is dedicated to serving its diverse range of well-established and emerging market segments. Federal Resources strives to fulfill and expand upon its mission to ensure end-users are equipped with the most innovative, reliable, and cost-effective products and technologies available on the market. For more information, visit http://www.federalresources.com.
About TRX Systems
TRX Systems is the developer of the NEON® Indoor Location Solution, delivering location and mapping indoors, underground and in dense urban areas where GPS is not available or is unreliable. NEON delivers ubiquitous, low-cost, 3D indoor location through the use of advanced sensor fusion, ranging, and patented dynamic mapping algorithms. NEON location technology provides the foundation for a number of commercial applications including NEON Personnel Tracker and NEON Signal Mapper. TRX is the recipient of the Silver Edison Award for Innovation in the Navigation and Robotics category, the Tibbetts Award given by the U.S. Small Business Administration for Innovation and Economic Impact of Research and Development, the TEDCO ICE Award for Corporate Excellence and the Innovator Award from the Chesapeake Regional Tech Counsel (CRTC). TRX's indoor location software development has been supported by the National Science Foundation (NSF), the Defense Advanced Research Projects Agency (DARPA), the U.S. Army, National Institute of Standards and Technology (NIST), and the Department of Homeland Security (DHS). For more information, visit http://www.trxsystems.com.