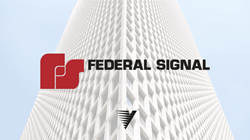 RALEIGH, N.C. (PRWEB) April 14, 2020
Federal Signal Safety and Security Systems Group is a world leader in innovative equipment, signaling products, emergency communication, and security systems that keep workers, first responders, and communities safe and secure. Federal Signal determined an internal business need for a collaborative, scalable forecasting software tool with a path to a sales and operations planning process integration. To achieve these in-house capabilities, Federal Signal has selected Vanguard Software as a software solution to keep its business performing at the forefront of its industry.
Vanguard Predictive Planning™ is a state-of-the-art, market-leading, native cloud platform that enables clients to achieve breakaway performance through collaborative planning. Teams achieve better performance with advanced workflow capabilities, market-leading collaboration hub, consumable analytics, and more. With the Vanguard IBP platform, companies like Federal Signal can use the best tools in the industry to relieve the headache and stress of manually forecasting and planning in spreadsheets.
About Federal Signal
Federal Signal Corporation builds and delivers equipment of unmatched quality that moves material, cleans infrastructure, and protects the communities where we work and live. Founded in 1901, Federal Signal is a leading global designer, manufacturer, and supplier of products and total solutions that serve municipal, governmental, industrial, and commercial customers. Headquartered in Oak Brook, IL, with manufacturing facilities worldwide, the company operates two groups: Environmental Solutions and Safety and Security Systems.
About Vanguard Software
Vanguard Software introduced its first product for decision support analysis in 1995 to help organizations make more informed decisions. Vanguard Software has continued to push the boundaries with analytics, machine learning, statistical forecasting, and artificial intelligence. By working with market leaders from the Fortune 100 to the midmarket, Vanguard Software has developed the most advanced and accurate planning solution.