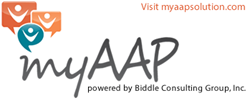 "We listened to our clients. We listened to the industry. We realized that having the most robust, secure AAP software was simply not enough. That's why we developed the myAAP Software Solution." Patrick Nooren, Ph.D., Biddle Consulting Group
Folsom, California (PRWEB) June 18, 2014
Biddle Consulting Group, Inc. is proud to announce the public release of myAAP Software Solution, a completely new, web-based affirmative action plan (AAP) development solution for Federal contractors of all sizes looking to develop OFCCP-compliant AAPs.
"Given the complexities of developing an AAP and the scary nature of today's enforcement environment, Biddle Consulting Group decided that 'good' is not 'good enough,' and that the typical software plus technical support model of the past often results in plans that are not compliant and/or take too long to develop," states Patrick M. Nooren, Ph.D., Executive Vice President at Biddle Consulting Group.
The myAAP Software Solution is more than just an online software application, it is an experience comprised of three (3) key components - myAAP Software, partnership with a myAAP Solution Specialist, and BCG Institute for Workforce Development (BCGi) Training.
Biddle's web-based AAP development application is a user-friendly program designed to help novice users create their plans using a logical, streamlined process. In addition, the most advanced users find all the flexibility and high-level tools they require to meet the regulations as well as the needs of their organization. There are many unique features in the new myAAP Software Solution that will make the affirmative action plan development process faster and smoother — and federal contractors can be confident that Biddle's myAAP program is compliant with current regulations.
Federal contractors may try the myAAP hosted solution for 90 days. If, at the end of 90 days, plans are not completed and the organization discontinues use of the myAAP Software Solution, there's no charge.
Contact Information:
Jeff Davies
Biddle Consulting Group
http://www.myaapsolution.com
(800) 999-0438