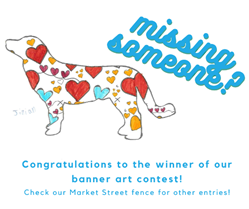 "We know that his absence will create a hole on the street… but we have a plan for that." - Elin Ross, Executive Director, Federated Charities
FREDERICK, Md. (PRWEB) July 29, 2020
Even a pandemic won't stop this particular trip, "Charity" (the iconic black dog on Market Street) leaves his post for the first time in at least 30 years on Wednesday as it is removed for restoration. After a restoration report in 2019 indicated the structural failure of its base, Federated Charities has worked with a team of artists and experts to rebuild the paws, replace the base, freshen up the paint and generally give 100 more years of life to Frederick's favorite dog. "I'm probably going to shed a tear or two when they drive away with him," says executive director, Elin Ross, "And we know that his absence will create a hole on the street…but we have a plan for that." A coloring contest was a part of the organization's ART of the Dog signature event this year and a winning picture was chosen from the entries and has been made into a life-sized banner that will hang in place of the statue during its repair. The banner will be installed with the young artist on Saturday August 2nd and hang until the real figure is returned.
The repairs are estimated to cost $12,000, which the organization is underwriting through additional fundraising and a grant from Preservation Maryland. "We do not pass on our renovation costs to our nonprofit tenants, nor do we use program funds for projects like this or like the other renovation project to the building right now," says Ross, "Our organization is responsible for upkeep of the building and its contents but our first priority is to ensure that our tenants have a stable roof over their heads before we undertake any of these kinds of projects." The project will be overseen by Wellman Conservation and is anticipated to take 2-4 months to complete.
The statue was installed in front of the building in 1858 and as such has seen much of the history of Frederick walk past and it's easy to envision soldiers during the Civil War walking by and petting it, much like countless people today do the same. Ultimately however, the dog is one symbol of the work of Federated Charities and its nonprofit partners in our community.
The mission of FEDERATED CHARITIES for more than 100 years has been to provide compassionate community services in Frederick and offer education and resources which support nonprofits in a collaborative environment so they can better serve their local clients. The building at 22 South Market Street was donated as a generous bequest in the mid-1930s from the estate of Margaret Williams with the stipulation that it be used in perpetuity for philanthropic outreach in the community. The organization operates the space as a nonprofit center where 16+ agencies offer primary health and dental care, behavioral health services, senior programming, conservancy efforts and cultural programs to the Frederick community in return for reduced rent and shared back office support.