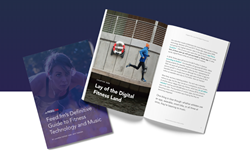 SAN FRANCISCO (PRWEB) August 01, 2018
Feed.fm today announces the release of the definitive guide to fitness, technology and music to help companies better integrate music and workout content into their apps. This first-of-its-kind guide analyzes fitness market dynamics, music as a performance enhancer, licensing intricacies, music curation, and the business value of music. Between 2014 and 2017, fitness app usage grew 330%, earning the highest retention rates in the app world, according to Flurry Analytics. In addition, music is a legal performance-enhancing drug improving running performance by 15% while simultaneously reducing perceived effort by up to 10%. Given this positive correlation between fitness and music, and the massive growth in fitness tech, music integration is an essential, highly cost-effective fitness app business strategy. Apps have seen a 2x improvement in D90 retention along with increased session times when Feed.fm music is integrated into the user experience.
"Fit tech is powerful preventative healthcare and Feed.fm is providing the soundtrack," said Feed.fm CEO Jeff Yasuda. "With more and more outstanding fitness technology companies arriving on the scene, we're seeing that music is a key differentiator in the user experience. We've assembled this guide to help accelerate every app, wearable and device company's journey to improve retention rates and increase session times with the right music."
What's inside? We've already touched on the first two chapters, the market and the positive effects of music. In addition to these, four chapters walk you through the changing landscape:
The art and science of music curation : Everyone thinks they are a DJ, but it takes serious skill. Feed.fm's Head of Curation Dario Slavazza describes the craft of successful workout soundtracking.
The unwonderful world of music listening : Music sync licensing is expensive and a headache, and looking to Spotify or Pandora creates friction in the user experience. "Whenever you have to leave the app to adjust music, it's a barrier," said Ryan Vance, Chief Content Officer, Tonal.
The ROI of music in fitness : 4.5x more time spent in app, 2.2x more likely to return next month, 2.8x more likely to return next quarter!
Betting on the future: content, hardware and audio : Exponential gains are seen when all three of these components come together and the user gets a multi-sensory experience.
What are industry executives saying?
"Symbiotic coaching and music is crucial for our user experience. Feed.fm programs the right music for the right intensity to help us deliver a differentiated workout," Simon Sollberger, Pear Sports.
"We obsess over providing the best workout experience for our users and music is a key element. As we continue to evolve our offering, we see Feed.fm as more than a vendor - they are our strategic music partner," Christine Raschke, Head of Content and Operations, MoveWith.
About Feed.fm
Feed.fm amplifies customer engagement with music. Music is proven to drive user retention, social engagement and workout motivation. Top brands like Fitbit Coach, MoveWith, Pear Sports, ClassPass, ASICS, DailyBurn and the LA Marathon are working with Feed.fm to integrate popular music in their workout experiences. Based in San Francisco, Feed.fm is funded by Crunchfund, Core Ventures Group, KEC Ventures, and Fyrfly.