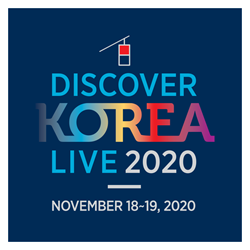 NEW YORK (PRWEB) November 11, 2020
Hosted by the Korea Tourism Organization, New York Office, Discover Korea Live 2020 is an online travel event created to share and celebrate Korea's rich culture. The two-day event officially begins on November 18 to 19th, 2020 and will provide the opportunity to experience Korea from your home.
This event ― consisting of a variety of programs that will explore a wide range of topics, from K-Tour, K-POP, K-Food, K-Beauty, K-Movie ― will be conducted on the event's official YouTube channel through streaming and live broadcasting for five hours each day.
Over the course of two days, Discover Korea Live 2020 will offer various online programs, which will feature Philip Rosenthal, host of the popular Netflix program "Somebody Feed Phil"; Darley Newman, Emmy Award-winning host of "Travels with Darley"; Korean food cook at home with Chef Jae-Eun Jung, a "40 under 40 rising star chef"; Korean temple food cooking class with a cookbook author Wookwan, and a discussion on Korean movies with film critic Pierce Conran.
It will also feature the video blogs of famous American YouTubers Levi Bernhardt, Paul Hershberg from Tastes Seoul Good, and Ke Sung Anderson, who will introduce the authentic Korean dishes and the must-visit tourist sites on their journeys over the country, and a talk show with Whitney Bae, another famous American Youtuber, streaming live from New York.
There will also be a variety of entertainment programs, including an online fan meeting with top KPOP singer Ailee and rising stars CIX; a virtual tour of SM entertainment and BTS Hot Spots in Seoul, with David and Danny, hosts of the DKDKTV, a popular YouTube channel specializing in and discussing KPOP; Taekwondo demonstrations by Na Tae-Joo, creator of the new genre K-trot, and K-tigers; the quiz show The Online Golden Bell Challenge America, in which viewers can participate, and a KPOP party with top DJ and producer JVNA.
In addition, different online contests and many prizes are currently being put together for the event.
Please visit http://www.discoverkorealive2020.com for more details on the event schedule and guests.