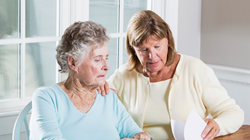 TUCSON, Ariz. (PRWEB) November 16, 2018
Acting as a caregiver for an older or disabled loved one can be overwhelming, time-consuming, and expensive. According to the Family Caregiver Alliance, about 34 million Americans have given unpaid care to an adult over the age of 50. These unpaid hours can translate into fewer working hours and early retirement. The loss of income for the caregiver can cause financial stress and family discord. Some caregivers experience health issues due to the demands of looking after a loved one.
These health issues are results of caregiver burnout. Family caregivers spend, on average, 24 hours a week in caregiving duty—and the average length of caregiving is around 4 years. Those hours can build up and create chronic stress, leading to burnout.
Symptoms of chronic stress associated with burnout often show up in a number of ways. Physical symptoms can include:

Fatigue
Headaches
Sleep problems
High blood pressure
Increased pain (especially in the neck and back)
A worsening of already existing medical problems
These symptoms are also not always physical, but can affect a caregiver emotionally, as well. Victims of burnout often feel:

Depressed
Isolated
Hopeless
Angry
Frustrated
Trapped
Burnout can happen to anyone, at any time. Aging Life Care Managers®, also known as geriatric care managers, can help caregivers avoid the symptoms of burnout by providing knowledge, resources, and support to families as they navigate the care journey with their aging loved ones. Aging Life Care Managers can help caregivers find the best option—whether it involves in-home professional caregivers, a move to assisted living, or downsizing—that helps the older adult and their family caregivers age well. To find an Aging Life Care Manager near you, visit the Aging Life Care Association at aginglifecare.org.
____
ABOUT the Aging Life Care Association ® (ALCA): ALCA (formerly known as the National Association of Professional Geriatric Care Managers) was formed in 1985 to advance dignified care for older adults and their families in the United States. Aging Life Care Professionals® have extensive training and experience working with older adults, people with disabilities, and families who need assistance with caregiving issues. They assist families in the search for a suitable nursing home placement or extended care if the need occurs. The practice of Aging Life Care™ and the role of care providers have captured a national spotlight, as generations of Baby Boomers age in the United States and abroad. For more information or to access a nationwide directory of Aging Life Care Professionals, please visit http://www.aginglifecare.org.