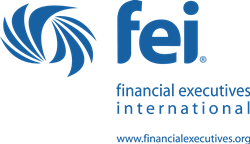 Every Financial Executive of the Year award nominee should take great pride in the work they do both as professionals and individuals operating within their respective communities. They all serve as role models that others can strive to emulate.
MORRISTOWN, N.J. (PRWEB) May 02, 2019
Financial Executives International (FEI), the association of choice for CFOs and other senior-level finance executives, today announced the five individuals receiving the organization's highest honors for 2019.
Financial Executive of the Year Award Recipients
The nationwide awards program, now in its third year, recognizes peer-nominated individuals who have made considerable impact within their companies or organizations. Nominees are not required to hold FEI memberships.
Several criteria are considered by the Selection Committee for each nominee when determining award winners. Those criteria include: leadership, team development, responsibility, planning and budgeting, control and reporting, social responsibility, and innovation. Nominees are then assessed for use of judgment and insight to shape strategic organizational direction; ability to drive growth or mitigate a financial crisis; impact on their colleagues' professional growth; mentorship; impact on organizational and community issues; and more.
The 2019 award recipients by category include:
*Private Company: Vincent Fusco, Senior Vice President, US Finance, Regal Entertainment Group
Vince Fusco is the Senior Vice President, US Finance for Regal, a wholly-owned subsidiary of Cineworld Group, PLC—moving into this role after serving as Vice President, Controller for Regal Entertainment Group. Prior to joining Regal, Vince was the Vice President, Controller for United Artists Theatre Circuit in Denver, CO and also served as Director of Internal Audit for United Artists.
A certified public accountant, Vince is an active member of the American Institute of Certified Public Accountants and the Tennessee Society of Certified Public Accountants. He also is a member of FEI, having served on the Board for the Knoxville Chapter as Treasurer from July 2012 to June 2014. Further, Vince remains involved in his community serving on several local Boards such as the CBID Board for Downtown Knoxville, the Board of Ijams Nature Center, and the TN Valley Fair Executive Committee.
*Private Company: Harry Soose, Chief Financial Officer, Civil Environmental Consultants, Inc.
Harry Soose is the Chief Financial Officer of Civil Environmental Consultants (CEC), an engineering consulting firm with over 1000 employees. Early in his 12-year tenure at CEC, he successfully negotiated credit agreement waivers and spearheaded initiatives to remedy accounting errors and to reduce debt—earning him the Pittsburgh Business Times CFO of the Year in 2009. Prior to CEC, Harry succeeded in financial leadership positions, including CFO, at a large publicly-traded engineering and constructing firm.
Harry earned a bachelor's degree and an MBA from Duquesne University and holds both the CPA and CMA designations. He has been an active member of FEI for twenty years and served as President of the Pittsburgh Chapter. As Director and Board Chair of the Homeless Children's Education Fund, and the founding President and former Board Chair of the local Emergency Medical Services, Harry also values volunteer leadership in his community.
*Private Company: Heather Zorge, Chief Financial Officer, Western Window Systems
Heather Zorge is Chief Financial Officer of Western Window Systems. She has more than 20 years of experience as a financial executive at companies in the public and private sectors, including senior roles at PricewaterhouseCoopers (PwC), Petroplus, and American Traffic Solutions. A graduate of Arizona State University, Heather holds a bachelor's degree in accounting and is an Arizona CPA.
Heather is passionate about taking a holistic approach to maximizing her team's and company's potential. She believes in selfless service, following through on what she says she will do, and holding herself and others accountable. She also believes that the strength of an amazing culture, vision, and good people drive exceptional bottom-line performance. Her core beliefs and personal conduct carry through to her community where she serves on the Board of Trustees of the Foundation for Blind Children.
*Public Company: Robert Probst, Executive Vice President and Chief Financial Officer, Ventas, Inc.
Bob Probst is the Executive Vice President and Chief Financial Officer of Ventas, an S&P 500 company and leading real estate investment trust. He plays a key role in all aspects of finance, accounting, IT, strategy and investor relations, and leads the Senior Housing Asset Management portfolio which represents approximately half of the Company's net operating income. His career prior to Ventas spans a variety of business, financial and geographic roles in publicly-traded corporations.
Bob is a member of the Economic Club of Chicago, and serves on several Boards for organizations including the Argentum; the Chicago Botanic Garden; and Camp Kesem, a nationwide community supporting children with parents surviving, being treated for, or lost to cancer. He is also a member of the advisory board of the Duke University Financial Economics program. Bob earned his BA with honors in Economics from Duke University and received his MBA with highest honors in Finance and Accounting from The University of Chicago Booth School of Business.
*Non-profit Organization: Jeffrey Bethke, Executive Vice President and Chief Financial Officer, DePaul University
Jeffrey Bethke is the Executive Vice President and CFO of DePaul University in Chicago, where he oversees activities ranging from financial, human resources and IT to housing, facilities and public safety. He led DePaul's public-private partnership to create the newly-opened 10,387-seat Wintrust Arena. Notably, Jeffrey is on temporary leave from the University to lead the budget and municipal finance task for the Chicago Mayor-elect Lori Lightfoot's transition team.
Jeffrey's work extends deep into the community. He is President of the Educational Advancement Fund, Inc and the Finance Committee Chairman on the Board of Directors of DePaul Preparatory High School. He is also a Civic Federation of Chicago Board Member, Niagara University Trustee, and Chair of the BIG EAST Athletic Conference's investment subcommittee. He holds a Bachelor of Arts from the University of Missouri at Kansas City and an MBA from the University of Chicago Booth School of Business.
"Year after year, we receive an incredible collection of nominations showcasing the best of the best that our industry has to offer," said Andrej Suskavcevic, CAE, President and CEO, FEI. "While we choose a select few to receive the Financial Executive of the Year award itself, it goes without saying that every nominee should take great pride in the work they do both as professionals and individuals operating within their respective communities. They all serve as role models that others can strive to emulate. Congratulations to all of the nominees, and a special salute to those executives who managed to stand out amongst such esteemed colleagues. You all prove that we have the potential to impact far more than a company's bottom line."
FEI would like to acknowledge and thank Robert Half and Protiviti for their continued dedication and support of this outstanding event by again sponsoring the Public Company Category.
Awards Presentations
Presentation of the above awards will occur during FEI's annual Financial Leadership Summit, May 19-21, at Disney's Grand Floridian Resort & Spa in Lake Buena Vista, Florida. Recipients of the Financial Executive of the Year award will be celebrated during the Awards ceremony reception on May 19 at 6:00 p.m.
Distinguished Service Award Recipients
Recipients of the Distinguished Service Award are individuals who have demonstrated exemplary service to the organization that consistently rank above and beyond their chartered responsibilities. They exhibit extraordinary commitment and purpose within their local Chapters as well as at the National level. This year's honoree is:
*Mark Smetana, Chief Financial Officer, Eby-Brown Company LLC
An active FEI member since 1997, Mark has served on the National Board, the Strategy Planning and Governance Task Force and chaired FEI's Committee on Private Company Policy. In March 2012, he testified before the House Ways & Means Committee on tax reform for closely held business. He also served on the FEI Chicago Chapter's Board and has provided expertise on numerous panels.
About FEI
Financial Executives International (FEI) is the leading advocate for the views of corporate financial management. Its more than 10,000 members hold policy-making positions as chief financial officers, treasurers and controllers at companies from every major industry. FEI enhances member professional development through peer networking, career management services, conferences, research and publications. Members participate in the activities of more than 65 Chapters in the U.S. FEI is located in Morristown, NJ. Visit http://www.financialexecutives.org for more information.
Media Contacts:
Claudine Cornelis
Crimson Communicates
845.424.6342
claudine(at)crimsoncommunicates(dot)com
Lili DeVita
FEI
973.765.1021
ldevita(at)financialexecutives(dot)org