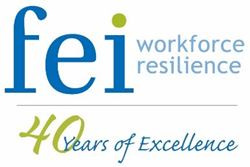 MILWAUKEE (PRWEB) February 13, 2020
FEI Behavioral Health, a social enterprise with a 40-year history of providing programs and services that improve workforce resilience, will present at the 2020 Alliance Senior Leadership Conference.
The Alliance for Strong Families and Communities (the Alliance) is a national strategic action network that is working to achieve a healthy and equitable society. Its conference runs from February 22-25, 2020, at the Marriott Savannah Riverfront in Savannah, Georgia.
FEI Senior Director Terri Howard will present on "Creating an EDI-Enriched Workforce" on Monday, Feb. 24, 2020, from 1:15-2:45 p.m. She will be joined by Alliance Senior Director Undraye Howard. Together they will discuss the importance of advancing equity, diversity and inclusion (EDI) within organizations so that all employees feel valued and part of workplace culture. This is a necessary strategy for achieving a healthy, productive and peaceful society in which all people can participate and reach their full potential. The pair will also discuss the role of implicit bias and how historical discrimination and non-inclusive behaviors have contributed to an unjust society.
Terri Howard is a corporate management executive with more than two decades of experience in organizational development. She has provided training and consultation for nonprofit organizations, Fortune 500 companies, the government and institutions of higher learning around the country. Her topics have included implicit bias, bullying and harassment, anger management, workplace violence prevention, leadership development and teamwork. Her relaxed style and informal approach create an engaging learning environment for participants.
Undraye Howard is the senior director of equity, diversity, inclusion and engagement at the Alliance for Strong Families and Communities and provides strategy, solutions, and support for advancing and developing leaders in the social sector.
For more information about the conference or FEI's participation, please visit Alliance 2020 Senior Leadership Conference.
________________________________
FEI has a 40‐year history in enhancing workforce resiliency by offering a full spectrum of solutions, from employee assistance programs (EAPs) and organizational development to workplace violence prevention and crisis management. One of the most successful social enterprises in America, FEI was created by the Alliance for Strong Families and Communities, a national network of social sector organizations working to achieve its vision of a healthy and equitable society. Visit http://www.feinet.com for additional information.