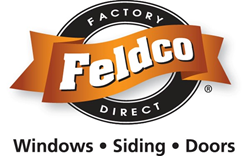 Knowing we can help make a difference in the lives of these children is beyond measure.
CHICAGO (PRWEB) February 16, 2019
Feldco, the Midwest's leading replacement windows, siding and doors provider, has partnered with the Center for Community Advocacy on the rehab of a building on West Wilcox in Chicago.
The Center for Community Advocacy's Community Rebuild Initiative is dedicated to rehabbing former abandoned properties to house the homeless and/or to serve as family and youth support centers in underserved communities. The current building being renovated is nearing completion. It is a 2 flat building on West Wilcox that will serve as a group home for homeless teens. "There are currently over 20,000 homeless students enrolled in Chicago Public Schools, and we want to make sure these students dedicated to their education have a place to go," stated Clarence Davidson, who is leading the renovation for CCA.
Many local businesses have made donations in the form of product and/or labor, and it's made a huge difference in the progress of the renovation. The roof has been repaired, the walls have been improved, the necessary tuckpointing was performed and one of the three furnaces at the property has been replaced. On top of that, Chicago-based Feldco donated all the windows for the project. They first installed the windows on the second floor late last year and will be replacing all the windows on the first floor this coming Monday, February 18th.
Patti Freko, Feldco's VP of Marketing, initially received Mr. Davidson's request for window donations, he was looking for help in any form, even if it was just a window or two. "After hearing about the great cause and their need for windows, it was our absolute pleasure to help out the Center for Community Advocacy," stated Freko. "Knowing we can help make a difference in the lives of these children is beyond measure," she added. Feldco places a great emphasis on community outreach and is continuously looking for ways to get involved in the communities they serve. From scholarships to monetary and product donations, they are committed to giving back.
Chicago high school students are also getting involved in this renovation through the Youth Leadership Service Corp Service Projects. Students from Dunbar Vocational Academy have earned service hours needed for their graduation by working at the Wilcox property. These students, as well as some from Marshall Metropolitan High School will be present on February 18th when Feldco is installing the first-floor windows to learn more about home improvement, energy efficiency and help with any pending projects at the property that day. Feldco spokesman, Dave Cook, will be on site to interact with the students and answer any questions they have about construction and more.
The Center for Community Advocacy is a 501(c)3 Tax Exempt organization and is always looking for donations to help with their cause. "We really want to make a difference in the lives of teens that need a safe and nurturing place to call "home" again," added Davidson. "We have been fortunate for the donations we have already received. Besides the window donation from Feldco, Sherwin Williams, Wirtz Rentals, U-Haul, IBEW Local 134 and many others have helped make this project come together. We are all very appreciative."
Feldco is the Midwest's leading window, siding and door replacement specialist. Founded in 1976, the company is focused on delighting customers by making home improvement projects simple. With premium products, factory-direct pricing and certified installers, Feldco provides an excellent overall value and experience having served over 350,000 customers across Illinois, Indiana, Wisconsin and Iowa. Feldco has been frequently named one of Chicago's Tribune's Top Workplaces and was recently recognized as the #1 Window and Door Company in America by Window and Door Magazine. Please visit Feldco's website (http://www.4feldco.com) or contact the company's Communication Center (866-4FELDCO or 708-437-4000) to learn more about Feldco's products and services.