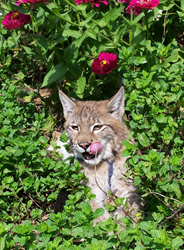 Premiere Wildlife Reserve is a licensed facility with an established safety protocol that enables the caregivers to feed and service the animals and enclosures without entering when they are occupied by a feline.
Washington, D.C. (PRWEB) December 03, 2014
Yesterday afternoon, Rachael Hightower, a 21-year-old woman who had been assisting David Laws, an animal caretaker at a licensed wildlife breeding center entered the enclosure of an adult Siberian Lynx and was scratched on the scalp. According to Laws, Hightower was on the property without him due to miscommunication. She entered the lynx enclosure and was clawed by the feline. At no time was the lynx out of its enclosure.
Lynn Culver, executive director of the Feline Conservation Federation(FCF) stated, "Recent news reports that have sensationalized this incident, a classic example of the media fanning the flames of public hysteria."
Culver explains, "Premiere Wildlife Reserve, a professional FCF member, is a licensed conservation breeding facility that incorporates the standard safety protocol for caregivers to feed the animals, and service the enclosures without entering when they are occupied by a feline. Culver says, "Had the woman followed this protocol, there would not have been an incident to report. The neighborhood faces no risk of injury from the felines at this facility."
According to Laws who was the feline caregiver while owner Fred Boyajian was out of state, the injured woman was a longtime friend of his family who had been learning about the cats and was at the facility at Laws' request. Laws explained to Culver she was not feeding the cats as reported in other news stories because Laws had already fed the cats earlier that day, but neglected to inform Hightower not to come by. For unknown reasons, Hightower entered a lynx enclosure and was scratched by the feline. A friend who had accompanied her to the facility called 911. Hightower was seen at the hospital, prescribed antibiotics and released.
Lynn Culver, who is also a licensed breeder of Siberian lynx commented, "Entering the habitat of an adult Siberian Lynx is not advisable when the animal is unfamiliar with the person. That space is considered the animals' territory, and these felines have an instinct to protect that space from invaders. You never know how a feline will react to your presence."
Georgia laws require wildlife facilities to be licensed by the Department of Natural Resources and hold a USDA license to breed and sell exotic felines. Premiere Wildlife Reserve has a great safety record and has been federally licensed for more than three decades and has held licenses from the state of Massachusetts and Georgia for more than 40 years.
Premiere Wildlife Reserve specializes in the reproduction and hand rearing of the small wild feline species for use by outreach educators and zoological facilities. It also provides superior breeding stock for other licensed conservation breeding centers. Culver, who has an adult male lynx born at this facility says, "Kittens raised at Premiere are always healthy and socially well adjusted, qualities that require husbandry skills and species knowledge to achieve."
For more than five decades the Feline Conservation Federation has taught captive husbandry and wildlife conservation education, and provided expertise and material support to ensure the continued welfare and viability of captive populations. The FCF contributes to research and also funds protection programs that benefit felids living in nature.