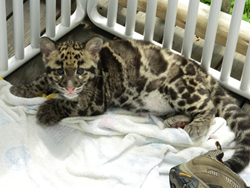 This year's event, offering two zoo trips, an informative line up of speakers, plenty of delicious meals and banquet entertainment should be one of the best Conventions ever.
Washington, D.C. (PRWEB) April 26, 2015
The Feline Conservation Federation (FCF) annual convention gathers at the La Quinta Inn and Suites Wichita Airport beginning Thursday, June 25 and continuing through Saturday, June 27. Convention is open to everyone and provides opportunities for networking, and husbandry and conservation education to feline owners and handlers as well as folks interested in wild felines. The FCF is a 501(c)(3) non-profit organization that conserves wild felines through preservation, education and research. Members are wild feline owners and handlers, educators, conservationists, researchers, and supporters of feline conservation.
This year's international conservation speaker is Ashwin Naidu, representing the Fishing Cat Conservancy doing work in India and with connections in Sri Lanka. Ashwin's presentation will enlighten attendees on the nature of this little known feline and the Conservancy's efforts to promote the survival of fishing cats through public awareness and community-based conservation.
Wednesday June 24, preceding the start of convention will be two educational courses presented at the La Quinta Hotel in Wichita. FCF instructors will teach the Wild/Exotic Feline Husbandry Course and the Wildlife Conservation Educators Course from 8am-6pm. These classes are open to members and non-members and are highly recommended for those considering exotic feline ownership or who already work with them.
The registration fee for convention is $200 and is open to all who are interested in the conservation of exotic felines. The fee for either educational course is $145. Registrations can be made online at the FCF website, and payment can be made by PayPal, check, or credit card. La Quinta Hotel reservations can be made by calling 800-255-6484. FCF Convention room rate is $95 and this price is good until June 10th.
Thursday afternoon, June 25, convention kicks off its a social mixer with vendor displays, exotic kittens, a silent auction, cash bar and southwest buffet and concludes the evening with the Federation's annual membership meeting.
The morning of Friday June 26 begins with an assortment of conservation speakers. In addition to Ashwin Naidu speaking will be Dr. Jim Sanderson, founder of the Small Cat Conservation Alliance. Also speaking is Mindy Patterson, president of the Cavalry Group , known for providing legal defense and advocating for animal owners and animal related businesses. Kathy Stearns, of Dade City Wild Things, will provide valuable information about USDA developments and OSHA regulations affecting animal businesses.
Friday afternoon after the speaker session, tour Sedgwick County Zoo, dine on a barbeque lunch at the Big Bear Watering hole, and listen to a keeper talk at the Slawson Family Tiger Trek.
Saturday June 25, the group spends the day at Tanganyika Wildlife Park in Goddard, Kansas. Tanganyika is a ZAA accredited facility known for its successful breeding of clouded leopards and snow leopards as well as lynx, tiger, Amur leopards and other feline species. A deli lunch will be served.
Saturday night concludes with a banquet dinner, entertainment, and fund raiser auction. FCF Executive Director Lynn Culver says, "This year's event, offering two zoo trips, an informative line up of speakers, plenty of delicious meals and banquet entertainment should be one of the best Conventions ever."
The Feline Conservation Federation is a self-regulated society with an established group of professional members and accredited facilities. FCF member facilities maintain important genetic reserves and are a key resource of ambassador felines used in conservation education.