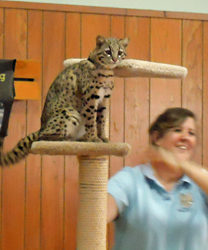 Teaching the FCF Husbandry Course improves captive feline welfare and teaching the Wildlife Educator's course improves the outlook for felines in nature
Washington, D.C. (PRWEB) May 16, 2015
The Feline Conservation Federation (FCF) will teach its highly acclaimed Wild/Exotic Feline Husbandry Course and its Wildlife Conservation Educator's Course on Wednesday, June 24 at the Wichita Airport La Quinta Inn and Suites in Wichita, Kansas. FCF membership is not required to take either of these two continuing education classes. Attendees may also sign up for the FCF Convention which follows on Thursday and runs through Saturday night.
The FCF Wild/Exotic Feline Husbandry Course topics include natural history, regulations, behavior shaping, diet, habitat and enclosure design, health care and contingency plans.
Husbandry Course instructor Mindy Stinner is the co-founder of the Conservator's Center in Mebane, North Carolina. Stinner says "One of the reasons this is a great course is that students participate in discussions. Since captive husbandry covers a variety of venues, everyone has different experiences that provide new insights and ideas for the betterment of wild felines under care."
Because exotic felines are tightly regulated by city, county, state and federal law, committed owners need to excel at husbandry knowledge and practices. Stinner says, "Taking this course will benefit feline caregivers at any level of experience, from novice to seasoned zookeeper.
The Wildlife Conservation Educator Course will be taught by two experienced educators. Michelle McKay, founder of Zoofari Educational Encounters, and Kim Barker, educator at Conservator's Center will be instructing this class. The FCF course gives students the tools necessary to become qualified as professional conservation educators specializing in wild felines." The instruction manual teaches the basics on outreach shows and how to promote a business. More advanced topics such as how to expand an existing wildlife education business, and how to present effective conservation messages that engage, entertain, and capture the viewers' attention are covered as well. Students are familiarized with the various licenses and requirements, and how to choose and prepare animals for outreach ambassador rolls.
The FCF recognizes the positive value of increasing public understanding of the many threats to natural eco-systems. FCF executive director Lynn Culver says, "Becoming a wildlife educator is one way to spread awareness about wildlife and their survival issues. Informing folks about conservation is important, but experience has proven that combining the message with introductions of spectacular animal ambassadors reaches an audience's heart and motivates personal changes that can help save wildlife and wild places."
Both classes start at 8:00 a.m. and run to 6:00 p.m. at the Wichita Airport Las Quinta Hotel and Suites, in Wichita, Kansas. Lunch is provided. Students receive a textbook to take home. Students that complete the course and pass the test receive a Certificate of Educational Achievement suitable for framing.
An online registration form can be used to sign up for either class and to pay the $145 fee. Lodging at La Quinta is available for $95 a night, breakfast included. Call the hotel at 800-255-6484 and mention the FCF Convention to reserve a room at this price.
The Feline Conservation Federation is a self-regulating society of exotic feline owners and handlers with an established group of professional members. FCF members hold important genetic resources that help conserve feline species and are a key resource of ambassador animals used to teach the public about wildlife conservation. Culver says, "Being better informed is the best way to help felines. Teaching the FCF Husbandry Course improves captive feline welfare and teaching the Wildlife Educator's course improves the outlook for felines in nature."