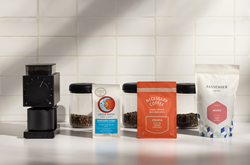 "This new grinder is the upgrade everyone has been waiting for," said Jake Miller, Founder and CEO of Fellow. "All of Ode's new features are game-changing, but in particular, the new burrs and cleanliness upgrades take the grinder to the next level. We're excited to see what our customers think."
SAN FRANCISCO (PRWEB) November 01, 2022
Fellow, the specialty coffee gear company on a mission to help people brew ridiculously good coffee at home, today launched two new offerings ahead of the holiday season: Ode Brew Grinder Gen 2 and Fellow Coffee Subscription. Orders for the new grinder can be made here.
The second generation of the company's Red Dot award-winning Ode Brew Grinder features the same elements the grinder is known and loved for, such as 31 settings for precision grinding, the single-dose loading function, grind knocker, and the quiet grinding and automatic stop capabilities. Taking customer feedback into consideration, new features that set the grinder apart from others on the market include:

Brand New Burrs: Designed in-house by Nick Terzulli – Certified Q Grader and Fellow's VP of Hardware and R&D – these burrs have already received five-star reviews and have a larger grinding range fine enough for any brew method aside from espresso. The chamber is flat so burrs sit better inside the grinder and users can now brew a high extraction, light roast, single cup of coffee.
Anti-Static Technology: Helps reduce the mess.
Improved Hopper Design: The new hopper is larger with a more dramatic slope that ensures all types of coffee beans make it into the grinder.
100g Catch Cup: The new catch cup is large enough for 1.5L of brewed coffee for the "golden ratio" 1:16.
"This new grinder is the upgrade everyone has been waiting for," said Jake Miller, Founder and CEO of Fellow. "All of Ode's new features are game-changing, but in particular, the new burrs and cleanliness upgrades take the grinder to the next level. We're excited to see what our customers think."
"I've been really impressed by the latest upgrades in the Ode," said Morgan Eckroth, 2022 US Barista Champion aka Morgan Drinks Coffee. "The new burrs help create consistently impressive cups of coffee, both in flavor and in improved workflow."
As part of Fellow's mission to provide the best quality coffee equipment and product experience for its customers, the company has also launched a new specialty coffee subscription program – Fellow Coffee Subscription – to curate the best coffee to use along with the Ode Brew Grinder Gen 2 and the rest of its products. Featuring a seasonal rotation of hard-to-access coffees by roasters from all around the world, Fellow has approached its coffee subscription with the same uncompromised design and performance as its award-winning gear. The rigorous coffee curation process brings the very best roasts to customers. The in-house panel includes three Certified Q Graders who tasted more than 450 coffees this year to curate extraordinary roasts. In addition to curating roasts that match subscriber's coffee preferences, the program offers guidance and brewing tips on each specific coffee from the roasters themselves, as well as Fellow's Q Graders to help subscribers get the most out of their beans and their Fellow gear.
With the addition of the new coffee subscription, Fellow is officially the one stop shop for gear, guidance, and coffee. US customers will be able to sign up for Fellow Coffee Subscription on Thursday, November 17 at fellowproducts.com.
To purchase the new Ode Brew Grinder Gen 2 ($345 or $495 with upgraded SSP Brew Burrs), place your orders here. Grinders will begin shipping to customers in mid-November.
###
About Fellow
Fellow is on a mission to help people brew ridiculously good coffee at home. Inspired by the need for high quality equipment to properly brew high quality coffee, Fellow brings the confidence of the specialty coffee world into the lives of everyday coffee lovers, from the curious to the prosumer.
Fellow's products and services include: kettles, grinders, French presses, mugs, and a seasonal selection of exclusive, limited release coffee from roasters around the world. Fellow's Stagg EKG Electric Kettle, Ode Brew Grinder and Carter Move Mug have won a number of renowned awards and accolades, including the Specialty Coffee Association Awards, the Red Dot Design Award, and the Dezeen Awards.
Founded in 2013, by CEO Jake Miller, Fellow is headquartered in San Francisco, California. For more information about Fellow visit http://www.fellowproducts.com.