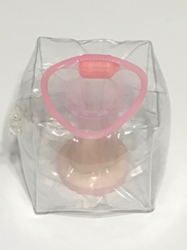 Accessorize your VA® now with a powerful Vibe. The VA Vibe Kit.
HARBOR SPRINGS, Mich. (PRWEB) April 23, 2020
The highest-rated female condom, the latex VA®, is now available with a powerful bullet Vibe, sold together in the new VA Vibe Kit by IXu.
The Vibe Kit includes a small, powerful reusable Vibe the woman places strategically under the condom's outer rim, where both then lay snugly against the woman's most sensitive outer genital region during intercourse.
IXu believes the VA provides the best condom protection based on its simple proven design, and the new Vibe Kit now at last combines the VA with the most popular of miniature vibrating adult toys, functioning together during use.
The powerful reusable (replaceable batteries) Vibe gives direct vibe or pulse stimulation when used with the VA. Short simple instructional videos are on the VA website.
Based on a 50-couple User Study, the VA and Vibe used together conclusively prove to provide "high orgasm rates for the female partner", states IXu CEO Brian Osterberg. See vawow(dot)com for links to study results and earlier media reports anticipating the market entry of the VA with Vibe.
Also, visit at Instagram: @vacondom
About IXu: IXu launched the Venus Age women's condom campaign in 2019, marketing the VA as attractive, feminine and easy to use. The 2020 pink-colored VA model is a latex pouch that lines the vagina, a flexible sponge inside the pouch to anchor it internally and an outer triangular rim forming a latex shield. See photos on website.
It is considered by several global women's health providers, to be the favored female condom. IXu considers the new price cuts as a proper way to provide affordable new healthcare products in today's severe situation, and offer the best in natural birth control and improved condoms. IXu's Medical Advisor is world renown fertility expert, Dr. Gregory Rosen, MD of Los Angeles.
Visit vawow(dot)com to learn more or write info(at)vawow(dot)com.