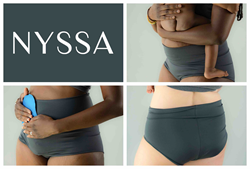 "You can get fleece-lined socks for your dog, but highly functional below-the-belt options designed to provide comfort during postpartum recovery have been non-existent. No one has been talking about this….until now." - Chief Product Officer & Co-Founder, Aubrey Howard
CHICAGO (PRWEB) September 12, 2019
Founded by three new mothers who were profoundly let down by the lack of products available to them during their postpartum recoveries, Nyssa is born. Driven by the desire to have an honest dialogue about what really goes down after giving birth and to provide better recovery options during the Fourth Trimester, Nyssa is readying to launch its first patent-pending innovation: Fourthwear™ underwear.
Empathetically designed to provide greater comfort to new mothers, Fourthwear™ was created following 13 months of intensive prototyping alongside a robust advisory board of mothers, OBGYNs, doulas, pediatricians and midwives from around the country. Highly functional, Fourthwear™ is designed to be a harder working, aesthetically pleasing alternative to the free underwear typically passed out in hospitals.
"After giving birth at a hospital, most women are handed a pair of mesh undies and sent on their way," says Nyssa Chief Product Officer & Co-Founder, Aubrey Howard. "Incredibly flimsy, mesh underwear is not conducive to holding a pad or ice pack. And it's white—not ideal when you are bleeding. It's 2019! You can get fleece-lined socks for your dog, but highly functional below-the-belt options designed to provide comfort during postpartum recovery have been non-existent. No one has been talking about this….until now."
OBGYN approved Fourthwear™ underwear features a new-to-the-world design that easily accommodates an ice/heat pack over a caesarean incision site and/or the vaginal/perineal area. Super stretchy and virtually seamless, the fabric was specially selected for its ability to flex with mothers' changing bodies during the weeks and months postpartum. Sustainably produced in Chicago, Illinois and made from post-consumer recyclables, Fourthwear™ will be available for sale nationwide in sizes ranging from XXS-XXL on September 20th at nyssacare.com.
As cultural conversations become ever more prevalent in the postpartum space (Beyoncé, Serena Williams, Penelope Cruz all recently spoke openly about their Fourth Trimester recoveries), Nyssa (which means 'new beginnings' in Greek and is derived from the word 'woman' in Arabic) is determined to address the changing climate of motherhood with products that are truly intended to serve the needs of women.
"There is so much focus on the mother-to-be during pregnancy and birth— then that focus abruptly shifts," says Nyssa CEO & Co-Founder, Eden Laurin. "Her wellbeing immediately becomes secondary. The physical, emotional, and identity-related transformation to new motherhood is earth-shattering— yet so many women still experience that time as isolating, and are left to figure out their own solutions to recovery."
Fourthwear™ ranges from $25 for a single pair of underwear to $67.50 for a three pack, and comes in re-usable packaging that can double as a diaper carrier for your baby. Staying true to the brand's overarching mission to support women during times of transformation, Nyssa has employed a team of post-retired women— who have found it difficult to get jobs at this stage in their lives— as co-packers for the company.
Fourthwear™ Product Features:

Front opening allows for insertion and placement of an ice/heat pack (any brand, up to 6" wide) over the vaginal/perineal area or a cesarean incision site.
Widened gusset keeps oversized maternity pads in place.
Fold the top up or down to suit preference.
Super stretchy, virtually seamless fabric accommodates changing bodies and provides comfort during a time of heightened sensitivity.
Quick-drying fabric— perfect for busy days with baby.
Nyssa's Community: Nyssa brings real talk and a strong sense of community to the postpartum space through their Instagram (@Nyssacare) and their podcast The Unmentionables (https://open.spotify.com/show/5EeFpSMy2BmdO1L8u71O97). "The only way we can take the stigma out of topics that were once considered taboo, is to openly talk about them in a safe, supportive environment with experts working in the field," says Nyssa Chief Creative Officer and Co-Founder, Mia Clarke. "Nyssa is much bigger than the three of us." The Unmentionables has already featured an impressive portfolio of informed guests from around the world that range from Emily Oster (Cribsheet) and Lauren Smith Brody (The Fifth Trimester), to a pelvic floor specialist and transgender dad who gave birth.
Look for more news from the brand, as well as additional product availability at birthing centers and hospitals around the country in the near future. More information about Fourthwear™ and Nyssa can be found at http://www.nyssacare.com.
Go Fourth™ #gofourth