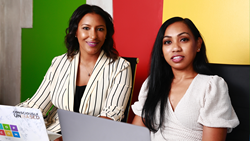 "Retail is different. We have to think outside of the box and align ourselves with people that are building companies that will not only survive a pandemic but adapt to the new normal. I believe PopCom is what brick-and-mortar stores look like in the future." Natasia Malaihollo
LOS ANGELES (PRWEB) July 16, 2020
Tech company PopCom is pleased to announce its recent acquisition of game-based survey company Wyzerr. Dawn Dickson, founder and CEO of Popcom reveals that she and Wyzerr founder, Natasia Malaihollo, have been close friends for many years, and both are excited to be able to work together in the future.
"The acquisition of Wyzerr marks an exciting new chapter for PopCom," says Dickson. "Natasia and I have the same goals in mind, and together we will continue to make waves and change the whole look of the automated retail industry."
Wyzerr founder and CEO Natasia Malaihollo has dedicated the last six years of her life to building surveys that look and feel like games. What started as a drawing on the back of a napkin grew to a company that served over 2,200 business customers in over 53 countries, helping businesses like Kroger, Unilever, Walmart, Google and Facebook better understand their customers and employees.
"My journey with Wyzerr was incredible, and we made a real impact on the companies we worked with," says Malaihollo. "But now the world is different. Retail is different. To stay ahead, we have to think outside of the box and align ourselves with people that are building companies that will not only survive a pandemic but adapt to the new normal. I believe PopCom is what brick-and-mortar stores look like in the future. I'm excited for this new chapter of growth and innovation as we work together to create a new landscape in retail."
Wyzerr is renowned for its innovative surveys, which will now be of tremendous benefit to PopCom as the company further develops its artificial intelligence and vending machines. With surveys that are actually fun and interesting to complete, the company boasts an unusually high consumer completion rate. This will allow PopCom to improve customers' purchasing experiences and zoom in more effectively on consumer needs while determining if there are any aspects that specifically need attention.
"If 2020 has taught us anything, it's that we have to build and create products, services, and technologies that serve and enrich our own communities and people," Malaihollo concludes. "At PopCom, we will build retail solutions that will make it easier for creators to sell in airports, large cities, hotels, and other places they normally wouldn't be able to have a presence in."
PopCom has utilized crowdfunding to create additional streams of revenue on the path to profitability, raising an historic 2.3 million from the general public who now have equity in both PopCom and Wyzerr. This type of fundraising instrument allows companies to secure investment from the general public which is outside of the traditional fundraising route that most technology start-ups take. These platforms allow everyday people to get in early stage tech deals with high growth companies, and offer them the opportunity to reap the rewards as they scale and increase in value.
###
About PopCom
An automated retail company that leverages facial detection, machine learning and blockchain technology, PopCom specializes in smart vending and kiosk solutions, helping retailers collect valuable customer insights. The company's services have been particularly in demand during the COVID-19 pandemic, especially with its technology that can securely verify customer identity to sell regulated products such as cannabis and alcohol in vending machines.
The PopCom team recently made history when they successfully completed their second equity crowdfunding campaign on Start Engine, having raised 2.3 million in capital exclusively thru crowdfunding investors, something that no other female founder has ever achieved.
It is the company's intent to eventually power all machine-driven transactions in the retail space with their operating system that integrates facial detection to understand the customer demographic profile including age, gender, and emotion. The COVID-19 pandemic has made it more apparent that this could be a valuable asset to communities around the world, mitigating the need for human contact in emergency situations.
For more information, visit http://www.popcom.shop
About Wyzerr
Created to combat survey fatigue, high drop-off rates, and a growing disinterest in providing companies feedback, Wyzerr develops surveys that look and feel like games. While the average survey was taking eight minutes to complete and resulting in an average completion rate of 3%, Wyzerr successfully developed gamified smartforms that are fun, fast, and easy, and can ask 25 questions in under 60 seconds.
The company's software not only allows users to create gamified surveys, but also includes mechanisms built into the software to guide users into creating good survey questions. With 2,200 customers in 53 countries, Wyzerr's most notable clients include Google, Procter & Gamble, Unilever, Kroger, Facebook, PayPal, and McDonald's.
For more information visit http://www.wyzerr.com