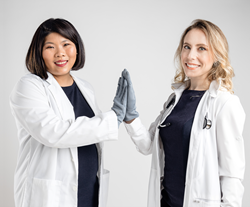 What we have worked to create is a multi-functional pair of gloves that can provide protection from direct contact with COVID-19
PHILADELPHIA (PRWEB) October 27, 2020
PhD chemist-turned-entrepreneur Beau Wangtrakuldee continues her mission to provide protective wear for everyone by announcing today's launch of AmorSui's Alice Hamilton Commuter Gloves. In collaboration with Dr. Alyssa Cole, a Physical Medicine and Rehabilitation Physician in Philadelphia, Wangtrakuldee recognized the need for everyday protective wear for activities such as commuting on public transportation, grocery shopping or going to the gym. With a second surge of COVID-19 expected this winter, both women agreed that antimicrobial gloves would prevent the spread of germs.
Multiple research studies (https://www.nejm.org/doi/full/10.1056/NEJMc2004973?query=featured_home) show that COVID-19 may remain active for hours or even days on common clothing materials, especially polyester and spandex-blended fabrics which can hold respiratory droplets," explains Wangtrakuldee, Founder & CEO of AmorSui. "What we have worked to create is a multi-functional pair of gloves that can provide protection from direct contact with COVID-19. So this winter, we can all stay healthy, while keeping warm and comfortable and enjoying our daily activities."
The initial idea for the antimicrobial gloves was developed by Dr. Cole, who amid the COVID-19 pandemic observed first-hand the unprecedented surges of the virus which caused suffering and death. As a supporting physician, she sought a solution for public prevention efforts that could be implemented broadly and quickly.
"As a doctor, I enjoy educating the public on health-related topics through social media," explains Dr. Alyssa Cole. "After connecting with AmorSui, I was impressed by their dedication to combine fashion & function in the health & sciences field by offering sophisticated styles of protective clothing. When I learned they were using antimicrobial materials, I immediately recognized the need for gloves. With concerns for infections on the rise, it has been awe-inspiring to be a part of the design and development of the first lab-tested, clinician approved -antimicrobial gloves."
AmorSui's product development team, led by former garment designer Victoria Wright (Urban Outfitters and Club Monaco), leveraged the research and clinical background provided by Wangtrakuldee and Cole to develop everyday-wear, multipurpose gloves. Using environmentally friendly fabrics made in the U.S.A, the gloves feature antimicrobial actives that have been lab tested to last up to 50 washes. Each glove has a reflector for evening outdoor activities, and a snap to keep them together. Notably, the gloves are produced by Katie Sue Nicklos, experienced glove designer at NYC Wing & Weft Gloves, which has supplied high-ended gloves for celebrities (Madonna, Lady Gaga, Prince), Broadway productions (Moulin Rouge, Frozen, Rent), TV shows (The Marvelous Mrs. Maisel, Dickinson, The Boys), films (The Irishman, Little Women), and runway fashion shows (Calvin Klein, Christian Siriano).
The commuter gloves are named after Alice Hamilton, a female American physician, research scientist, and author who is best known as a leading expert in the field of occupational health and a pioneer in the field of industrial toxicology, to celebrate her public health initiatives and raise visibility of female leadership in the history of healthcare as role models for future generations.
The Alice Hamilton Commuter Gloves will be available for pre-sale purchase beginning October 26th on AmorSui's website, with plans to deliver before Christmas. Gloves will be offered in charcoal black, stormy grey, and merlot red. AmorSui is also in conversation with several grocery stores to supply the gloves in sustainability efforts to reduce waste from disposable gloves and lower the spread of COVID-19 to store employees and shoppers.
"AmorSui's mission from day one has been to make safety available to all. We are energized to lead the creation of products that will be effective against reducing the spread of COVID-19 in public and protecting frontline workers," Wangtrakuldee concludes.
AmorSui, meaning "love yourself", launched in 2018 in Philadelphia, Pennsylvania with a mission to create protective workwear for women scientists. Wangtrakuldee's desire to keep women safe goes back to 2014 when she was working in drug discovery and had a chemical spill on her lab coat which soaked through her jeans and burned her leg. While searching for better lab wear, she quickly discovered that protective workwear was mainly designed for men and options for women didn't really exist in terms of size or style. After speaking with several colleagues, Wangtrakuldee teamed up with a group of female scientists and fashion designers to create special apparel for women that was chemical-resistant, anti-microbial, fire-resistant and could be worn with or without a lab coat.
Due to the current pandemic, AmorSui's business model shifted to support the frontline as well as society at large. The recent introduction of their sustainable and reusable medical line with a PPE management platform that tracks the number of washes is a simple and effective way to implement products according to FDA conservation strategies during the COVID-19-fueled shortage of PPE.
Today, the company features the following: Marie Curie Dress ($180), Rosalind Franklin Pant ($150), Dorothy Hodgkin Top ($90), Mary Hunt Fire-Resistant Face Mask ($20), Elizabeth Blackwell Antimicrobial Face Mask ($25), Rufaida Al-Aslamia Hijab ($75) Rebecca Crumpler Medical Gown ($80) and Alice Hamilton Gloves ($75). All are machine-washable and made in the U.S.A at women-owned factories in Allentown, PA and Brooklyn, NY. For more information about AmorSui's line of PPE, please visit http://www.amorsuiclothing.com.