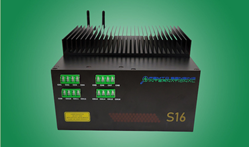 The new SX family of optical sensing instruments addresses a growing market need for monitoring a high number of optical sensors with budget-sensitive solutions
ATLANTA (PRWEB) December 02, 2022
The SX family of interrogators is designed to serve industrial applications requiring a high sensor count, but it is also well suited for the full range of other markets where Fiber Bragg Grating (FBG) based sensors are used, including medical, civil, aerospace, marine, railways, energy, and other applications.
FBGs are reliable all-fiber optical components which are used for making accurate and reliable temperature, strain and other measurements for over two decades. However, due to previous technical limitations, many commercial grade applications could not be properly addressed. A particular challenge existed with FBG Monitoring Instruments that needed to exhibit both (1) the ability to monitor a high number of sensors with the level of reliability and ruggedization that meet or exceed the requirements of industrial and commercial customers worldwide and (2) low-cost. The company's SX interrogators are dedicated to fill this industry need. Three highlights of the company's recently expanded SX family of interrogators are:
1. Static and/or dynamic monitoring of a high number of optical sensors.
2. Available in 1, 4, 8, 16, and 36 parallel channel configurations.
3. Low-cost architecture which scales well with volume.
Andrei Csipkes, President and CEO of FEMTO SENSING INTERNATIONAL commented that "The new SX family of optical sensing instruments addresses a growing market need for monitoring a high number of optical sensors with budget-sensitive solutions which are rugged, reliable, and which exhibit the accuracy, repeatability, and precision required for industrial measurements using Fiber Bragg Grating based sensors".
The company looks forward to serving its customers and their applications worldwide with its three Optical Sensing Instrument platforms: The FAZT IX family of premium performance interrogators, the "Gold Standard" when ultimate precision and repeatability measurements are required, the SX family for high sensor count applications, and the MX family for budget sensitive applications, FEMTO SENSING INTERNATIONAL is headquartered in Atlanta, USA, with Applications Engineering and Software Support in USA, Canada, Sweden, Japan, South Korea, China, and with Instruments Manufacturing in USA, Europe, and Asia (http://www.femtosensing.com).