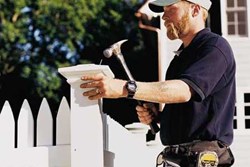 Homeowners can feel more protected while keeping children and pets in simply by installing a fence.
Baltimore, MD (PRWEB) August 30, 2013
A fence has many purposes, from keeping children and pets in, to keeping unwanted intruders away. In fact, historically, fences have been used for a number of security purposes. There are a number of types of fences homeowners can opt to install, most of which are going to provide a high level of security. Next to installing a security system, a fence can be one of the best ways to deter home intruders and burglars, particularly when certain features are utilized in the design and building of a fence. When used in conjunction with home security system equipment, a fence will amplify the level of security homeowners can enjoy.
Wood and metal are the primary materials used to build security fences, and while a metal fence isn't going to provide as much overall privacy as a wood fence, they are very durable and make a great option when looking at security purposes. According to SecuritySystemReviews.com, a site providing resources for researching a security system, there are some certain features that homeowners should pay particular attention to, when selecting a fence for security.
1. Height is very important when choosing a fence for security. The higher the fence, the more security is provided because it makes it more challenging for an intruder to climb the fence. Generally, a fence that is about 4 feet high will act as a deterrent to most intruders, but a fence that is 5 to 6 feet high is even more effective for added security around the perimeter of a home.
2. The structure of a fence is not going to offer any protection or security without a high-quality gate. The gate is one of the most pivotal parts of the security features of a fence, so it's important to select a gate that is going to be durable. Homeowners should choose strong, jimmy-proof locks with tamper-resistant hinges. Another good option from a security standpoint is a latch that requires keyed entry on either side of the fence.
3. Fences should be equipped to prevent a burglar or potential intruder from entering both on top of the fence and below the fence. For people who want the utmost in security, it may be advisable to add barbed wire to the top of the fence, and the bottom of the fence should be close enough to the ground that a person wouldn't be able to crawl under.
4. There are other security features that can be added to a fence, particularly if budget isn't a concern, such as electric fencing. Security cameras can also be added around fences for an added layer of security.
About SecuritySystemReviews.com
SecuritySystemReviews.com is a leading, third-party provider of information about the home security industry. The site provides reviews and comparisons of the top home security companies in the industry, including Protect America reviews and Vivint reviews.