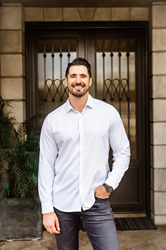 "We have stuck by our family-owned philosophies of educating landowners and serving the needs of the people who live in the communities it serves in uncertain times," stated Adam Ferrari
EL SEGUNDO, Calif. (PRWEB) June 30, 2021
Much has changed in the seven years that Ferrari Energy has been in business. The United States has become the world's leading producer of oil, overtaking Saudi Arabia. At the same time, natural gas has become the leading fuel source for the generation of electricity in the country.
While companies are searching for new ways to focus on renewable energy sources, there seems to be no stopping alternative, cleaner sources such as natural gas.
These massive changes in the U.S. energy landscape have forced energy companies to make significant changes, too. Along the way, Ferrari Energy has evolved with the industry.
In seven years in business, Ferrari Energy has completed more than 2,500 transactions and deployed more than $150 million in capital.
Ferrari Energy's business model deploys capital into mineral interest and non-operated working interest and provides much-needed liquidity to a volatile marketplace. This funding can prove to be essential in a market that is proving to be highly volatile.
Since 2005, analysts from the Energy Department have said it's becoming tougher and tougher to predict the U.S. markets for electricity, oil, and gas. This unpredictability makes it difficult for companies, lawmakers, policymakers, and homeowners to make decisions about how to move forward.
Recent research published in Nature Energy revealed that the volatility in all markets is seen in price, demand, and product. It also showed how the volatility could be extreme from just one year to the next.
"We have stuck by our family-owned philosophies of educating landowners and serving the needs of the people who live in the communities it serves in uncertain times," stated Adam Ferrari, founder and CEO of Ferrari Energy. Celebrating its seventh anniversary in June 2021, the company emphasizes the importance of affordable and abundant gas and oil resources.
Founded in 2014, Ferrari Energy works with landowners in a partnership to ensure they receive the benefits and profits from their land to which they are entitled. Ferrari's clients have consistently received premium value for the transactions they've conducted because the company has been able to stay ahead of the times in an ever-changing industry.
Starting in Denver, Colorado, the company quickly expanded to other states. Currently, the team at Ferrari has provided services in Colorado, North Dakota, Wyoming, and Utah. It is also looking to expand in the coming years into Texas, Montana, and Oklahoma to assist and educate homeowners on the rights in those states.
About Ferrari Energy:
Ferrari Energy is a family-owned private oil and gas company focused on mineral and leasehold acquisitions. Founded in Denver, CO, with a focus on educating landowners, Ferrari Energy has consistently served the needs of the landowner community in the basins in which it works. Its operation covers several areas throughout Colorado, Wyoming, Utah, and ND. Ferrari Energy has provided oil and gas leases to over 850 homeowners and held multiple lease signing events to accommodate the residents of Broomfield, Colorado.