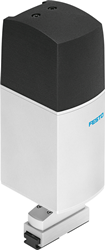 ISLANDIA, N.Y. (PRWEB) December 17, 2020
Festo introduces the - EHMD compact rotary gripper module for high speed laboratory sample handling. This versatile rotary gripper caps and decaps sample vials, loads centrifuges, and grips, rotates, and places microwell plates. Combined with a Festo 3D gantry handling system and a camera, the new gripper supports quality inspection, barcode reading, and label printing. The EHMD gripper is the latest in a series of new laboratory automation products introduced by Festo Life Science.
The EHMD comes in two versions: fully electric or with a pneumatically powered gripper. Both permit infinite rotation. An optional module with Z compensation automatically adjusts to cap thread pitch, which increases throughput by eliminating the need for head-adapter changeover. When the EHMD is powered by the Festo motor controller CMMO-ST, sample containers can be gripped with varying levels of force for greater flexibility in handling. This new gripper is now available on a global basis.
"The pandemic has created an urgent need to ramp up development and production of high-speed testing and screening equipment," said Craig Correia, Director of Life Science, Festo North America. Festo is not only developing new solutions such as the EHMD compact rotary gripper, but also integrating existing systems into rapid deployment motion and liquid-dispensing subassemblies that can dramatically reduce time-to-market for new lab equipment."
Email life.sciences.nam@festo.com and visit the Festo Life Science webpage for more information. The Festo general information number is 800-993-3786.
About Festo
Festo is a leading manufacturer of pneumatic and electromechanical systems, components, and controls for process and industrial automation. For more than 40 years, Festo Corporation has continuously elevated the state of manufacturing with innovations and optimized motion control solutions that deliver higher performing, more profitable automated manufacturing and processing equipment.
Connect with Festo: Facebook, LinkedIn, Twitter and YouTube