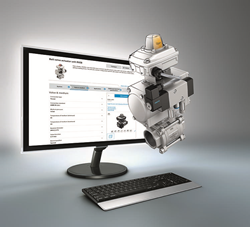 ISLANDIA, N.Y. (PRWEB) October 13, 2020
The new Festo KVZB Ball-Valve Configurator speeds up and simplifies the ordering process for the optimum ball valve assembly. KVZB assemblies start with a stainless steel two- or three-way ball valve and can be as simple as having a hand-lever or built up to a fully automated package. The online configuration process supplies price, estimated delivery date, data sheet, bill of material, 2D CAD data, 3D CAD models, and certificates – all in a matter of minutes. Units arrive fully assembled and tested.
KVZB valves are rated up to 1000 psi (63 bar) operating pressure. Connection options include ASME/ANSI and DIN/ISO standards for pipe thread, welded ends, flanges, and sanitary clamps. Automated quarter-turn actuator options include double or single acting, standard or epoxy-coated, and the ability to select pilot pressure. Available accessories include pilot valves, limit switch boxes, visual indicators, and digital positioners.
The KVZB configurator is the most recent offering in the company's series of online productivity tools, including Handling Guide Online for specifying a gantry robot with control panel in as little as 20 minutes.
Go to http://www.festo.us for the full range of Festo products and service offerings. The Festo general information number is 800-993-3786.
About Festo
Festo is a leading manufacturer of pneumatic and electromechanical systems, components, and controls for process and industrial automation. For more than 40 years, Festo Corporation has continuously elevated the state of manufacturing with innovations and optimized motion control solutions that deliver higher performing, more profitable automated manufacturing and processing equipment.
Connect with Festo: Facebook, LinkedIn, Twitter and YouTube