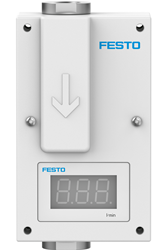 ISLANDIA, N.Y. (PRWEB) July 14, 2020
The new Festo N2 purge system for silicon wafer manufacture significantly reduces the risk of oxidation caused by particle contamination. This Festo system is ideal for Front Opening Unified Pod (FOUP) applications by maintaining a consistent, low-particle nitrogen supply. It is the latest Festo innovation for automation in the semiconductor industry.
The unit's peak particle size per switching cycle approximates 0.1 μm, which is about five times smaller than most N2 purge systems. Closed-loop control ensures an accurate, stable, and linear flow rate – without hysteresis. Repetition accuracy is rated at +/-0.25% of setpoint.
Low-friction piezo technology prolongs service life and minimizes maintenance. A power requirement of less than one watt reduces energy consumption by about 80% compared to proportional flow regulators. For reduced risk of leakage, this compact purge system has only two pneumatic connections. No assembly, testing, or additional stainless-steel tubing and fittings are required.
For more information on the new N2 purge system and other semiconductor and flat panel solutions, email ela.nam@festo.com and visit http://www.festo.us for the full range of product and service offerings. The Festo general information number is 800-993-3786.
###
About Festo
Festo is a leading manufacturer of pneumatic and electromechanical systems, components, and controls for process and industrial automation. For more than 40 years, Festo Corporation has continuously elevated the state of manufacturing with innovations and optimized motion control solutions that deliver higher performing, more profitable automated manufacturing and processing equipment.
Connect with Festo: Facebook, LinkedIn, Twitter and YouTube