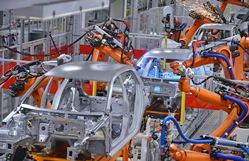 ISLANDIA, N.Y. (PRWEB) August 25, 2020
Festo has been named an artificial intelligence (AI) Champion for the company's project Intelligent Pneumatic Runtime Monitoring. The award was given during the inaugural Baden-Württemberg awards ceremony on August 11. Baden-Württemberg, Germany's third largest state, is one of that country's leading regions for AI development.
Thousands of pneumatic clamping systems are used daily in the automotive industry for tasks such as holding individual parts in place during body-shop welding. The Intelligent Pneumatic Runtime Monitoring software from Festo with AI from Resolto, a member of the Festo Group that specializes in AI development, alerts the auto manufacturer to replace clamps during routine maintenance periods to avoid costly unplanned shutdowns due to unforeseen failures. This AI-based algorithm relies on signals from the valves and the end positions of the actuators for its diagnostics – information that is readily available.
A total of nine awards for AI projects were given during the AI Champions' virtual ceremony. The honorees included a research organization, Festo, and two other companies with more than 500 employees, and five companies with less than 500 employees.
"Artificial Intelligence is the key technology of the future – just as important for the economy as it is for solving global social challenges," said Dr. Nicole Hoffmeister-Kraut, the Baden-Württemberg's Minister of Economic Affairs, Employment, and Housing, as she introduced the winners.
Dr. Thilo Streichert, Head of Development Embedded Software, and Dr. Dominic Kraus, Product Management and Business Development, accepted the award on behalf of Festo via live transmission.
Commenting on the award, Festo Management Board Member for Product and Technology Management Dr. Frank Melzer said, "As artificial intelligence is the key technology of the future, Festo's focus is on the further development of decentralized, autonomous systems and artificial intelligence. In 2018, we acquired the AI specialist Resolto and have been steadily advancing the fields of analytics and artificial intelligence since that acquisition. AI will have an enormous impact on our product portfolio by enabling AI algorithms to be integrated into the cloud as well as directly into Festo components. I am particularly proud of this award in the inaugural Baden-Württemberg AI Champions."
###
About Festo
Festo is a leading manufacturer of pneumatic and electromechanical systems, components, and controls for process and industrial automation. For more than 40 years, Festo Corporation has continuously elevated the state of manufacturing with innovations and optimized motion control solutions that deliver higher performing, more profitable automated manufacturing and processing equipment.
Connect with Festo: Facebook, LinkedIn, Twitter and YouTube