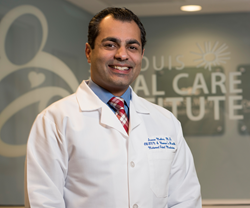 With his diverse experience in family medicine along with obstetrics and gynecology, Dr. Mehra brings a unique perspective and will be a great asset to our team and our families. - Mike Vlastos, MD
ST. LOUIS, MO (PRWEB) April 06, 2015
Suwan Mehra, MD is the newest member of the SSM St. Louis Fetal Care Institute team. Mehra is a maternal fetal medicine specialist (MFM), who will provide fetal diagnoses, care and monitoring, and perform fetal surgeries and interventions.
He is also an assistant professor at the Saint Louis University School of Medicine. Mehra completed his fellowship in maternal fetal medicine at the Saint Louis University School of Medicine under the guidance of St. Louis Fetal Care Institute Director Mike Vlastos, MD.
He has been active in fetal surgery and in-patient management following fetal surgery since starting his fellowship in 2011. He has experience with procedures such as open fetal surgery for fetal myelomeningocele (spina bifida) repair, minimally invasive fetal surgery for twin to twin transfusion syndrome (TTTS) and bronchopulmonary sequestration fetal lung masses and EXIT (Ex Utero Intrapartum Treatment Procedure) deliveries. He has assisted with more than 80 fetal surgeries.
"With his diverse experience in family medicine along with obstetrics and gynecology, Dr. Mehra brings a unique perspective and will be a great asset to our team and our families. It is physicians like him who will continue to advance the field of fetal medicine and intervention." says Vlastos.
Mehra's specialty interests include preterm premature rupture of membranes and he is currently involved in multiple research studies related to fetal therapy.
He received his M.D. from Manipal University in India. He did his residency in Family Medicine at Wheeling Hospital in West Virginia and his residency in obstetrics and gynecology at West Virginia University in Morgantown. Mehra has earned certification on the American Board of Obstetrics and Gynecology and American Board of Family Medicine, and has received honors from the American College of Obstetrics and Gynecology (ACOG), and the Society of Maternal Fetal Medicine (SMFM). He has presented at ACOG, SMFM, ISUOG and CAOG and has been published in the Perinatal Times, American Journal of Obstetrics and Gynecology, Green Journal and International Journal of Obstetrics and Gynecology.
###
ABOUT THE FETAL CARE INSTITUTE
The St. Louis Fetal Care Institute is a partnership between SSM Cardinal Glennon Children's Medical Center, SSM St. Mary's Health Center, and Saint Louis University School of Medicine. Bringing together renowned maternal fetal medicine (MFM) specialists, pediatric and fetal surgeons, specialized nurses, cutting-edge technology, and a family-oriented approach, The Institute offers state-of-the-art diagnostic methods and treatment options for families whose unborn babies are facing medical challenges. It is the leading comprehensive fetal care program in Middle America offering a variety of fetal interventions and treatments, including open and minimally invasive fetal surgery for babies in the womb.