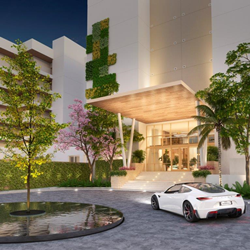 "The market shifted quickly to be certain," said Alan McDonnell, Chief Planning Officer at Valor Capital in Florida. "Buyers' priority lists became much more focused on personal and family well-being, so the idea of communities with amenities emphasizing large gatherings are no longer desirable."
CLEARWATER, Fla. (PRWEB) February 23, 2021
COVID-19 has dramatically shifted homebuyers' priorities, prompting real estate developers and related industries to place more emphasis on innovative design features that set new standards for ensuring their clients' health and wellness. Just three months into the pandemic, shared spaces became out-of-date and even irresponsible; designers and developers have refocused on creating spaces that are private, virtual, distanced, and one's own. Developers have all but agreed that health and wellness are at the top of buyers' wish lists.(1)
As affluent northeasterners and west coasters turn their attention to the warmer temperatures and wider spaces in the South, many developers have quickly pivoted away from the amenities that were once a draw for these homebuyers. "The market shifted quickly to be certain," said Alan McDonnell, Chief Planning Officer at Valor Capital in Florida. "The buyers' priority lists became much more focused on their personal and family's well-being, so the idea of communities with amenities emphasizing large gatherings are no longer desirable."
Developers in other states began rethinking their approach to building and floorplan designs. In some cases, like one developer in North Carolina, their ambitious, yet pre-COVID-19 plans had to be discarded and entirely new ones created, as every aspect of their home designs would now have to be shaped by the pandemic.(2)
Valor Capitol was one of Florida's developers to take a more proactive approach to this shift in properties. They refocused their design and development, giving top priority to their market's concerns and desires. "Our newest properties, such as Serena by the Sea, are designed from the ground up with unprecedented standards of health and wellness living in mind. Well-being is more than a way of life from now on—it's part of the very architecture itself."
Serena by the Sea, Built for COVID and Beyond
Serena by the Sea in Florida is a prime example of a residential project on the cutting edge of luxury living amid the new normal. This 80-unit condominium development overlooking the Gulf of Mexico is just minutes away from Clearwater and Dunedin, and it is preparing to break ground. Individual units and all common areas are the product of the new design philosophy.
As McDonnell explains, "Our entire community will have a 'How to Stay Well' protocol in effect at all times, meaning we will always put health first and foremost -- we even have an emergency protocol ready to be put in place in case of a health crisis."
Every living space at Serena by the Sea includes amenities and features to ensure residents benefit from these protocols.

All common areas are equipped with polarized media electronic air filters, an enormous improvement on flat filters.
UV-disinfecting lights that kill an average of 99.9% of germs in all common areas HVAC units.
All doors have touchless entry systems.
EPA-approved, pet-friendly cleaning products are to be used on every surface (which have also been proven to kill 99% of tested viruses).
Pools and jetted spas have the state-of-the-art water filtration systems to keep water always pristine.
Healthy Building, Welcome to Well-Being
Serena by the Sea is designed with unprecedented standards of health and wellness living in mind where well-being isn't just a way of life—it's part of the architecture.
As for the condominiums themselves, each unit is equipped with non-traditional, individual fresh air intake 24 hours a day. The key point: when at home, residents do not share air with anyone else.
In addition to this, there are solar panels producing 600,000 kw per year as people are staying at home and using more electricity.
Gomez Vasquez International is Serena by the Sea's external design firm, who throughout the last five decades, has completed more than 1,000 projects in over 81 destinations worldwide, demonstrating a commitment to design excellence, innovation and sustainability.
DKOR Interiors, who are among the top residential interior design firms in the South Florida region and internationally, were chosen for their luxurious and innovative interiors.
"There's not another community with the level of attention to detail like ours," McDonnell assures. "We're convinced that homebuyers will find that Serena by the Sea goes above and beyond, that we've created homes that can truly enhance their quality of life."
Valor Capital's first Broker's Event will be held on:
March 5, 2021 at The Capitol Theatre in Clearwater, Florida. Cocktail hour begins at 5:00 pm. Valet parking will be provided.
Guest appearances include Ryan Serhant, top-producing real estate agent and star of the series, Million Dollar Listing and Sell It Like Serhant.
About Serena by the Sea
Valor Capital's newest resort-style, waterfront condominium development, Serena by the Sea offers relaxed, luxury living where its residents enhance their lives, find solace from the confusion and difficulties of daily life, refresh and prepare to conquer life once again. Serena by the Sea is where one can truly pause and appreciate all that they have achieved. Visit http://www.serenabythesea.com
About Valor Capital
Valor Capital is a subsidiary of Terra Capital Partners SA de CV (Terra Capital Partners). Terra Capital Partners has been in operation for over 15 years (while its main partner has over 30 years of experience) and is the parent company of several sub-companies and investment funds that each have a specialization in different aspects of the real estate business (shopping malls, corporate offices, residential buildings, and land development. To learn more, visit valorc.com.
1. Taylor, Peter Lane. "Real Estate Will Never Be The Same Post COVID-19. Three Top Developers Explain The New Normal." Forbes, 23 April 2020, forbes.com/sites/petertaylor/2020/04/23/real-estate-development-will-never-look-the-same-post-covid-19-realtors-and-architects-should-pay-attention/?sh=76ee46786f2a.
2. McLaughlin, Katy. "Covid is Forcing Real-Estate Developers to Rethink Buildings." The Wall Street Journal, 10 Aug. 2020, wsj.com/articles/covid-real-estate-11596040879.