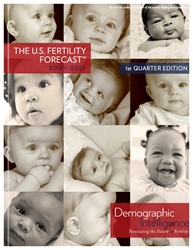 Particularly deep declines in populations of children under the age of eight are expected to be seen in rapidly aging states
CHARLOTTESVILLE, Va. (PRWEB) May 07, 2020
Child populations are declining nationally and in most U.S. states. Particularly deep declines in populations of children under the age of eight are expected to be seen in rapidly aging states with low birth rates like California, Illinois, Hawaii, Vermont, New Mexico and West Virginia. States that benefit from intra-country migration, and which have relatively higher birth rates, like Florida, North and South Carolina, Tennessee and Nevada can expect more stable child populations.
However, no state should expect significant growth in child populations in the foreseeable future. Even high-fertility states with strong economies and in-migration like Utah, North Dakota and Texas have experienced declining child populations in recent years as fertility rates tumble across the board.
Florida stands out as one of the few states to see an uptick in births over the last decade. The Sunshine State recorded 214,590 births in 2010; Demographic Intelligence expects that figure to rise to 223,524 by the end of 2020 and climb further to more than 226,000 in 2021. It is one of just a handful of states that DI anticipates will see its population under the age of five to continue rising through 2021. This means schools will continue to see more children entering Kindergarten in the Sunshine State for the near future.
Texas has seen its population swell in recent years thanks to migration trends across the U.S. Its fertility picture was also fairly sunny in the first half of the last decade, as births rose from 386,118 in 2010 to 403,618 in 2015. But that trend has since reversed, falling to 375,859 in 2019. Demographic Intelligence expects a continued decline in the next two years. The number of children entering Texas schools as kindergartners is also expected to decline in the next two years.
Migration trends within the U.S. have been kind to Utah, but its fertility rate has been steadily declining in recent years. Once a high-fertility state thanks to the powerful influence of the Church of Jesus Christ of Latter-Day Saints, its fertility rate recently fell below replacement level. Demographic Intelligence does not anticipate births falling much further in the near term, however, because of in migration into Utah. Births in Utah should remain around 48,000 in 2020 and 2021. Likewise, DI expects the population of those in the earliest elementary school grades to be fairly steady in the next couple of years, thanks to families moving into the state.
But in most states, the number of school-aged children is falling. The consequences of fewer primary school-aged children in the U.S. are likely to be significant. Many schools will be partially empty and demand for many categories of educational service will fall. Likewise, products marketed to children, especially mass-market products, will struggle to find sufficient customers. Even residential real estate will be impacted, as demand for family housing will eventually decline in parts of the country where more and more of life is spent without a spouse or children.
#   #   #
About Demographic Intelligence
Demographic Intelligence (DI) is the premier provider of U.S. birth forecasts and fertility analytics for businesses with an interest in birth trends in the United States. DI provides reports and consulting services to companies in the following sectors: juvenile products, healthcare, media, financial services, consumer food, and household products.
Demographic Intelligence is advised in its work by five leading family scholars: Princeton economist Alicia Adsera, University of Pennsylvania demographer Hans-Peter Kohler, University of North Carolina demographer Philip Morgan, economist and Chief Information Officer Lyman Stone and University of Virginia sociologist W. Bradford Wilcox.
CONTACT:
Steven Morales
Chief Operating Officer
Demographic Intelligence
Steve@USbirthrate.com