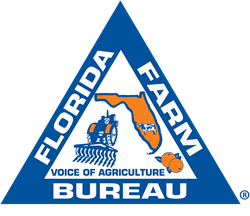 GAINESVILLE, Fla. (PRWEB) March 10, 2020
FOR IMMEDIATE RELEASE
Media contacts:
JohnWalt Boatright
352.384.2658
johnwalt.boatright@ffbf.org
G.B. Crawford
352.374.1517
gb.crawford@ffbf.org
________________________________________
Florida Farm Bureau President Praises Rep. Ted Yoho for Supporting Florida's Farm Families
Florida Farm Bureau President John L. Hoblick expressed his appreciation for U.S. Rep. Ted Yoho's work toward resolving a major public policy issue. "Congressman Ted Yoho has attentively listened to a serious challenge for agriculture – the continuous depletion of a reliable labor force," Hoblick said. "He has sincerely sought to understand the problem by holding numerous town hall meetings, roundtables and discussions with stakeholders.
"Rep. Yoho's Labor Certainty for Food Security Act is a product of those meaningful conversations with Florida farm producers," Hoblick added. "Our membership applauds his determination to find a solution as well as his boldness to offer one.
"There has been much activity on this issue in the U.S. House of Representatives in the past year. We now implore the U.S. Senate to ratify a new national agricultural labor policy before the 116th Congress concludes."
Florida Farm Bureau, the state's largest general agricultural organization, represents more than 142,000 member-families. We serve to enhance farm enterprise and improve rural communities.