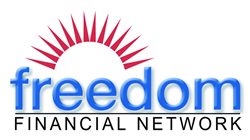 Freedom Financial Network's commitment and work are obtaining results for clients and for the economy.
San Mateo, CA (PRWEB) April 16, 2014
Freedom Financial Network (FFN), the largest negotiator of consumer debt in the nation, reports results for the first quarter of the year that include resolution of $186.3 million of debt for clients.
The results represent a 6 percent increase over the fourth quarter of 2013, and bring the total of debt resolved for the company since 2002 to more than $2.7 billion. During the fourth quarter, FFN negotiated resolutions on 33,627 individual creditor accounts in the quarter, up nearly 7 percent over the previous quarter. In the process, the company helped 23,460 clients, up 8.5 percent over the last quarter. The debt resolution results equate to negotiating $2.07 million of debt each day throughout the quarter, or more than $86,000 each hour.
"The first-quarter results get the year off to an excellent start," says Andrew Housser, co-founder and CEO. As the company helps more consumers get out of debt, the company is able to employ more people, he adds. Currently, FFN has nearly 120 open sales, customer service, negotiation, loan officer, underwriting, analytics and software engineering positions in its Tempe (Ariz.) and San Mateo (Calif.) offices. "Freedom Financial Network's commitment and work are obtaining results for clients and for the economy," Housser says. "We value the opportunity to make a difference in so many lives."
FFN is a consumer credit advocate that negotiates directly with creditors on consumers' behalf to resolve debt balances. Offering an alternative to credit counseling, debt consolidation and bankruptcy, the company's debt relief program helps clients resolve their unsecured debt, often in 24 to 48 months.
Freedom Financial Network (http://www.freedomfinancialnetwork.com)
Freedom Financial Network, LLC (FFN), provides comprehensive consumer credit advocacy services. Through the FFN family of companies – Freedom Debt Relief, Freedom Tax Relief, ConsolidationPlus, FreedomPlus and Bills.com – FFN works as an independent advocate to provide comprehensive financial solutions, including debt consolidation, debt resolution, debt settlement and tax resolution services for consumers struggling with debt. The company, which has resolved more than $2.7 billion in debt and assisted more than 265,000 clients since 2002, is an accredited member of the American Fair Credit Council, and a platinum member of the International Association of Professional Debt Arbitrators.
Based in San Mateo, Calif., FFN also operates an office in Tempe, Ariz. The company, with more than 600 employees, was voted one of the best places to work in the San Francisco Bay area in 2008, 2009, 2012 and 2013, and in the Phoenix area in 2008, 2009, 2010, 2012 and 2013. FFN's founders are recipients of the Northern California Ernst & Young Entrepreneur of the Year Award.