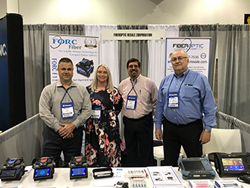 We made sure to keep our customers in mind while providing a high quality, top performing durable fusion splicer that won't cut into their budget. The feedback we've gotten from in the field users has been incredibly positive and FORC is proud to be able to offer these splicers at a reasonable cost
DENVER (PRWEB) August 30, 2018
The ISE EXPO was a 3-day event held from August 14th - 16th at the Colorado Convention Center in Denver, CO. The EXPO brought attendees and exhibitors from around the world to participate in the ICT industry's premier educational event for wire-line and wireless network transformation.
FORC demonstrated their new line of OEM fusion splicers designed with the user in mind; small rugged and compact fit for any environment or application. The FORC line of fusion splicers are ideal for both Outside Plant and FTTH applications with SOC (Splice on Connector) heater attachment, SOC holder and splice on connectors available in any style or fiber required. Technicians got a real hands on feel for all the features of the new F15 Core Alignment Fusion Splicer and were extremely impressed with it's easy to use interface, fast splice time, the quality of splices, and the inclusion of dual batteries and a 3-year warranty. Curt Oliver senior engineer with BHI, UT stated "the FORC F15 performs better than any Fuji we have had with a significant discount in price for what you get." The interest in the FORC-F15 grew when attendees learned for under 7K there's a high-quality splicer with a 3-year warranty. Comcast technicians in WI also picked the F-15 Core splicer over the competition after testing several manufacturers splicers. "After testing there is no way to overlook the value and quality of the F15."
The new F12R Ribbon Splicer also got great reviews as demonstrators were surprised to find incredible accuracy combined with a fast heat and splice time.
George Kyrias, President of FORC stated, "We are extremely excited about our new line of OEM fusion splicers. Our Director of Engineering worked several months developing and field testing our OEM splicers with major internet phone carriers and contractors prior to launch. We made sure to keep our customers in mind while providing a high quality, top performing durable fusion splicer that won't cut into their budget. The feedback we've gotten from in the field users has been incredibly positive and FORC is proud to be able to offer these splicers at a reasonable cost to our customers."
About FiberOptic Resale Corp
FiberOptic Resale Corporation (FORC)—manufactures, distributes and services fiber optic test equipment. Authorized USA Channel partners include INNO Instrument, Fitel/OFS, EXFO, Yokogawa America, and (ODM) Optical Design Manufacturing test equipment. Fiber optic consumables and tools include products from Polywater and Jonard, as well as electrodes, cleaver blades, splice protection sleeves and more, all offered on our web site and available for purchase online.
FORC Fiber —products are our OEM brand of fusion splicers. These fusion splicers are the newest brand of splicers on the market. Utilizing the latest in fiber optic technology they're designed for FTTH and Outside Plant Applications. All splicers are extremely rugged for in the field use including rubber bumpers for splicer & screen protection. All FORC fusion splicers come standard with dual batteries, an easy to use LCD color touch screen, storage for up to 10,000 records, bright LED lights for dark environments, a 3-year warranty and so much more.
FORC has an in-house lab that offers professional cleaning calibration/verification and repair services of fiber optic fusion splicers and cleavers. For more information on any of the products offered by FiberOptic Resale Corp please email sales@fiberopticresale.com or call 877-287-7535.