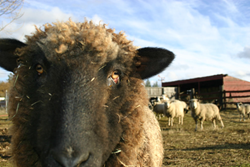 Wool Mills like Fibers First are adding jobs and reducing the carbon footprint by keeping everything local and shipping to a minimum.
Post Falls, ID (PRWEB) June 30, 2014
The Fibers First woolen Mill is now open and is processing wool daily. Fiber First is both the name and the idea behind the small mill operation owned by Karen Goodson. Fiber mills just like Fibers First were previously sprinkled across the US when wool was more of a domestic market staple. However, with the rise of synthetic fibers, the popularity of wool has fallen to the wayside. Alternative materials combined with cheap overseas labor caused many mills to close and the equipment sold overseas.
Domestic wool production is slowly on the rise as it is acknowledged as a sustainable green resource. Mills like Fibers First are adding jobs and reducing the carbon footprint by not shipping the fiber to China and heading back and processing locally.
Fiber mills were the foundation of how fibers such as sheep's wool, alpaca & mohair are processed for both hobbies and commercial uses. The tools that worked at the turn of the century, what some would call antiques, offers Fibers First a unique way to address the needs of the small batch local wool producers. Karen uses carders from the 1910's a picker from the 40's and a pin drafter with a known history dating back to at least the 50's. These machines are the industrial version of personal wool carders used by hobbyists commonly used for processing small batches of wool.
Bringing to mind the idea of slow food, local producers often look for processors like Fibers First that allow them to showcase individual breed or animals. These processed fleeces highlights the attributes of the fibers and animals to create a strong connect to history for the end user. Contact: fibersfirst(at)gmail(dot)com for more information.
Paradise Fibers is dedicated to partnering with and supporting US fiber mills like Fibers First that embrace the importance of domestic wool in the local markets. Paradise also partners with local wool producers to sell diverse wool roving from heritage breeds often unavailable from commercial sources.
Paradise Fibers has been in business since 1997 selling wool roving, knitting yarn, spinning wheels and craft supplies. The company is family owned and operated and consists of a variety of Romine family members young and old with a sprinkle of dedicated fiber junkies and stunt men.