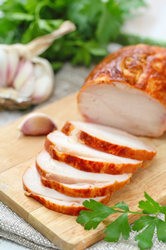 Our Citri-Fi product lines offer opportunities to improve yields and texture in addition to replacing phosphates and allergens to help clean up labels.
RIVER FALLS, Wisc. (PRWEB) February 21, 2019
Clean label food is not just another passing trend in the limelight. This fast-growing movement is now expected when creating natural foods and beverages. It is quite common to spot consumers running their index finger across the back of food packaging reading the fine print. Yet, meat products are not immune to this label scrutiny.
More than ever, meat and poultry producers are working diligently to create clean and transparent foods for the masses. For instance, in meat processing, phosphates perform well when it comes to improving yields. However, this ingredient is falling out of favor in some circles due to the perception of what is considered clean label. As a result, processors are exploring alternatives to phosphates.
One solution is using Citri-Fi®, a natural citrus flour, which provides high water holding and emulsification properties in conjunction with dissolved sodium carbonate also known as soda. When Citri-Fi 100M40 is used between 0.2% and 0.4% along with sodium carbonate, processors find they can remove phosphate while still maintaining high raw and cooked yields. Studies show that injected poultry using Citri-Fi and sodium carbonate together improved yields by more than 4% versus poultry injected with no phosphates. Moreover, processors benefit with reduced purge and favorable sensory results. Coincidently, many meat and poultry processors already use sodium carbonate as a processing aid or for other purposes.
Since Citri-Fi works synergistically with other yield enhancing ingredients, this natural ingredient also can replace phosphates when used with other hydrocolloids such as rice starch or carrageenan to improve yields. Alternatively, for those processors who continue to use phosphates, Citri-Fi can be used in addition to phosphate to enhance the yield and eating qualities.
"Fiberstar is dedicated to creating clean and natural solutions for the meat and poultry industry which is a core segment of our business," says John Haen, President and CEO of Fiberstar, Inc. "Our Citri-Fi product lines offer opportunities to improve yields and texture in addition to replacing phosphates and allergens to help clean up labels."
Citri-Fi is non-GMO, non-allergen and gluten-free. This natural ingredient has no E-number and can be labeled as citrus flour or dried citrus pulp.
For more information, please contact Dr. Brock Lundberg, Ph.D. at b.lundberg(at)fiberstar(dot)net or (715) 425-7550 x 102.
Fiberstar, Inc. http://www.FiberstarIngredients.com is a privately held innovative biotechnology Company focused on enhancing food performance by manufacturing and marketing value-added, plant-based food ingredients. Its largest brand, Citri-Fi, is a natural, highly functional fiber produced sustainably from citrus fruit using a physical patented process. Citri-Fi is GRAS, non-allergenic, neutral in taste & odor and non-GMO. This functional fiber line benefits meat, dairy, bakery, gluten-free, sauce, condiments, frozen food, beverage and health & wellness food products through textural improvements, nutritional enhancements and/or cost savings. Headquartered in River Falls, Wisconsin with manufacturing in Florida and Wisconsin, Fiberstar sells products globally in over 65 countries.