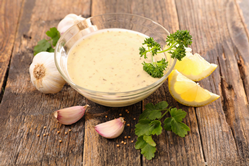 Emulsification is one of Citri-Fi's many functional benefits that is unique to this natural fiber's composition
RIVER FALLS, Wis. (PRWEB) May 16, 2019
Emulsifiers are the magic bullet when creating uniform oil and water mixtures. As a result, food and beverage products rely on these ingredients to create stable quality food that can withstand shelf-life conditions. However, today, consumers demand more natural sounding label declarations. This paradigm shift triggers food formulators to seek out alternatives for starches, gums and chemical emulsifiers. Yet, the marketplace offers few natural options. And, those available solutions tend to have limited stability over time which negatively affects the food quality. On the other hand, Citri-Fi®, a natural functional fiber, provides clean label emulsification to a variety of food and beverages while maintaining stability and quality over shelf life.
Citri-Fi citrus fiber is produced from byproduct of the citrus juicing process. The clean patented process opens up the fiber to provide high surface area. As a result, this is one of several mechanisms enabling emulsification to occur. Due to a recent research study, scientists mapped out Citri-Fi's natural emulsification mechanisms.
"We are excited to provide our global Customer base with a detailed road map in how to create high quality foods requiring a clean label emulsifier," says John Haen, President and CEO. "Emulsification is one of Citri-Fi's many functional benefits that is unique to this natural fiber's composition."
This in-depth multi-factorial study involved testing different oils, concentrations and ratios to name a few criteria. As a result, this research demonstrated that Citri-Fi is a low-energy emulsifier. In other words, this clean label fiber emulsifies using very little shear unlike other emulsifiers in the marketplace.
For instance, food developers working on clean label emulsified sauces save significant development time using predictive tools developed from this study. The recommended use level will depend on several compositional aspects which affect emulsification and stability. The study's factors include the amount of oil or fat used, the type of oil used and the desired thickness.
Here, Citri-Fi creates a homogeneous emulsion under room temperature, freeze/thaw or at elevated temperature conditions. Citri-Fi works with a wide variety of oils. As a result, developers optimize their formulations according to the melting point of the oil to reach a homogeneous emulsion. These emulsions are very stable for at least 6 months or even longer. Moreover, when the oil ratio changes from 60% to 70%, the emulsion phase inverts from oil-in-water to water-in-oil, which increases the variety of applicable food products.
Citri-Fi is non-GMO, non-allergenic and gluten-free. This natural fiber has no E-number. And Citri-Fi can be labeled as citrus fiber, dried citrus pulp or citrus flour which resonate well in the clean label and natural food markets.
"Fiberstar continues to be the leader in utilizing citrus fiber science to improve food and beverages globally," says Mr. Haen. "We recently launched a series of product application videos on our website including one on the emulsification properties which further demonstrates our dedication to Customers."
For more information about the clean label emulsification research, please contact Dr. Brock Lundberg, Ph.D. at +1 (651) 271-0328.
About Fiberstar, Inc.
Fiberstar, Inc. http://www.FiberstarIngredients.com is a privately held innovative biotechnology Company focused on enhancing food performance by manufacturing and marketing value-added, plant-based food ingredients. Its largest brand, Citri-Fi, is a natural, highly functional fiber produced sustainably from citrus fruit. The physical patented process creates the high water holding and clean label emulsification properties. Citri-Fi is GRAS, non-allergenic, non-GMO and has no E-number. This functional fiber line benefits meat, dairy, bakery, gluten-free, dressings, sauces, frozen food, beverages and pet food through textural improvements, nutritional enhancements and/or cost savings. Headquartered in River Falls, Wisconsin with manufacturing in Florida and Wisconsin, Fiberstar sells products globally in over 65 countries.