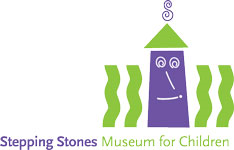 45th anniversary of 'The Very Hungry Caterpillar'
Norwalk, CT (PRWEB) April 14, 2014
Throw on the most comfy and cozy set of pajamas and head over to Stepping Stones Museum for Children from 6:00 – 8:30 pm. on Friday, May 2 for a special evening Storybook Pajama Party, featuring Eric Carle's "The Very Hungry Caterpillar."
Stepping Stones is excited to bring "The Very Hungry Caterpillar" to the museum for the first time as 2014 marks the 45th anniversary of the release of this classic children's tale. By the time attendees of the event travel home "by the light of the moon" at the evening's end, each child will be fulfilled by the smorgasbord of play-filled fun and ready for the warm "cocoon" of his or her bed.
The museum's second Storybook Pajama Party of 2014 will be "stuffed" with family fun. Not only will everyone get to sit in for story times with "The Very Hungry Caterpillar," but they'll also get to take photos with a life-sized version of the caterpillar with the voracious appetite. There will be a tremendous number of Hungry Caterpillar-themed crafts and activities as everyone celebrates his metamorphosis from 'hungry caterpillar' to 'beautiful butterfly.'
Pajama party guests can make a days-of-the-week calendar or construct a colorful chrysalis that would make the Hungry Caterpillar proud. They can dress up like a fruit or leaf and crawl through a caterpillar tube or free play with butterfly wings. Guests can use their imagination to design brilliantly bright, butterfly wings or create a collage in the style that Carle uses to illustrate his books. They can also make a necklace that will resemble the trail of foodstuffs left behind in the wake of the Hungry Caterpillar's seven-day eating binge.
If a moment of peace and quiet is what guests seek, they can snuggle up with a number of other Eric Carle stories in the cocoon of the special bedtime story corner. The evening will wrap up with a musical Fly Away Home Parade throughout the entire museum.
The Stepping Stones Cafe will be open during the event and serve up some appropriately-themed items for purchase. Enjoy the fantastic fare, but don't overindulge like the Hungry Caterpillar cause that will result in a stomach ache.
Tickets for this event cost $10 per person for museum members and $15 per person for non-members. Children under the age of one will be admitted for free. Storybook Pajama Party tickets are non-refundable and non-transferable. Registration is required. Space is limited and tickets are selling briskly, so register early. Call 203-899-0606, ext. 264 or visit http://www.steppingstonesmuseum.org.
About the company:
Stepping Stones Museum for Children in Norwalk, CT, is an award-winning, private, non-profit 501(c)(3) children's museum committed to broadening and enriching the lives of children and families. Located on five acres in Mathews Park, the LEED Gold certified museum encompasses five hands-on galleries, state-of-the-art Multimedia Gallery, Family and Teacher Resource Center, cafe and retail store.
Stepping Stones is located at 303 West Ave., exit 14N or 15S off I-95 in Norwalk. Museum hours are from 10 a.m. – 5 p.m. Tuesday through Sunday from Labor Day through Memorial Day, and Monday through Sunday from Memorial Day through Labor Day. Admission is $15 for adults and children and $10 for seniors. Children under 1 are free. To learn more, call 203-899-0606 or visit http://www.steppingstonesmuseum.org