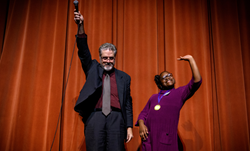 This is our opportunity to change lives
GREENSBORO, N.C. (PRWEB) February 05, 2019
A fifth grader from Monticello-Brown Summit Elementary, Nevaeh White, had a life-changing experience this week. She saw a story she had written, "The Showdown," turned into a real, live, fully-staged opera at the Carolina Theatre in Greensboro, NC.
And not only that, but 6,000 other fifth-graders experienced the magic of opera through both "The Showdown" and the 19th-century "Hansel and Gretel," performed by UNCG students. It was all part of the Opera at the Carolina program, a 25-year collaboration between the UNCG Opera Theatre, Greensboro Opera, and Guilford County Schools.
"How many of you think opera is boring?" asked UNCG Director of Opera and Greensboro Opera General and Artistic Director David Holley at the opening performance. A few hands flew into the air. "Well, we're going to change your mind," he said, with complete confidence.
And his words rang true. Even the skeptical who had raised their hands soon found themselves tuned into the performance, from the first note to the last.
Nevaeh's story came from a pool of 60 submitted by rising fifth-graders from across the county for the "Barbara Ann Peters Write Your Own Opera" contest that Peters and Holley initiated in 2010. In some years there have been as many as 150 entries; competition is tight for the next 10-minute original opera.
"The Showdown" is a story about bullying and forgiveness.
"My friends will go crazy, and they will love it. And I also love it because I like to help others think about what they should do when problems come up," said the fifth-grader, wise beyond her years.
"We're honored that her story was chosen. We've never been more proud of her," said Nevaeh's mother, Shameka White. "I think this is something that speaks volumes to every kid."
"These outreach performances are incredibly important," said master's student Jenna Fife, who plays both the witch in "Hansel and Gretel" and the Mockery High School ringleader. "There are so many professional singers whose passion for opera was sparked at a children's opera performance just like this one. I love that it allows us to introduce opera as an interactive platform for storytelling that everyone can enjoy."
"This is our opportunity to change lives," agreed Holley. "They may not all become opera lovers, but some of them will remember it for the rest of their lives. We're demystifying it, and we're telling stories. And with Nevaeh's help, we're sharing a really important message through a wonderful art form."
About UNC Greensboro
UNC Greensboro, located in the Piedmont Triad region of North Carolina, is 1 of only 50 doctoral institutions recognized by the Carnegie Foundation for both higher research activity and community engagement. Founded in 1891 and one of the original three UNC System institutions, UNC Greensboro is one of the most diverse universities in the state with 20,000+ students, and 2,700+ faculty and staff members representing 90+ nationalities. With 17 Division I athletic teams, 85 undergraduate degrees in over 125 areas of study, as well as 74 master's and 32 doctoral programs, UNC Greensboro is consistently recognized nationally among the top universities for academic excellence and value, with noted strengths in health and wellness, visual and performing arts, nursing, education, and more. For additional information, please visit uncg.edu and follow UNCG on Facebook, Twitter, and Instagram.