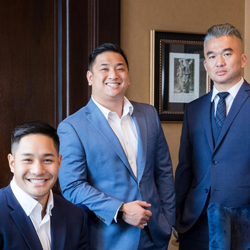 Since our mission is to make the process simple and fun, we're excited to be able to offer our clients an even more streamlined experience
SAN FRANCISCO (PRWEB) May 20, 2021
Fifty Hills Real Estate today announced its partnership with Side, the only real estate technology company that exclusively partners with high-performing agents, teams, and independent brokerages to transform them into market-leading boutique brands and businesses. The alliance will ensure that Fifty Hills Real Estate, specializing in pairing energetic, driven homebuyers with luxury properties that define the San Francisco lifestyle, is powered by the industry's most advanced platform.
Fifty Hills Real Estate was founded by Bay Area natives Brandon Tran, Brian Tran, and Alex Han. With over 20 years of combined real estate experience, they have achieved more than $150 million in closed transactions and upward of 50 five-star Zillow reviews. Blending their law, business, and real estate investment backgrounds, the agents produce excellent results in the San Francisco and San Mateo County markets.
Partnering with Side will ensure Fifty Hills Real Estate remains at the cutting edge of the evolving real estate market while allowing its agents to continue delivering premium services to their clients. Fifty Hills Real Estate agents are fully supported by a one-of-a-kind premium brokerage platform, which provides transaction management, property marketing, lead generation, business growth opportunities, vendor management, infrastructure solutions, and more. Additionally, Fifty Hills Real Estate will join an exclusive group of Side partners, tapping into an expansive network from coast to coast.
"To ensure that our brand reflects next-level capabilities, we chose to partner with Side, which places boutique brokerages like ours in direct competition with big-box establishments," said Brandon Tran. Han added, "Side equips our expanding team with incredible tech, marketing, and support, which will allow us to double our production and enhance our results seamlessly." Brian Tran concluded, "Since our mission is to make the process simple and fun, we're excited to be able to offer our clients an even more streamlined experience."
Side is led by experienced industry professionals and world-class engineers who develop technology designed to improve agent productivity and enhance the client experience. Based on its belief that homeownership is a fundamental human right, Side is on a mission to improve the public good by providing top-performing real estate agents, teams, and indie brokerages with the best system, support, service, experience, and results.
About Fifty Hills Real Estate
Founded by a trio of Bay Area natives, Fifty Hills Real Estate has an unrelenting drive to simplify and invigorate the real estate process. Using an approach that is meticulous yet easygoing and rigorous yet flexible, they curate opportunities in the most desirable San Francisco neighborhoods — with the ultimate goal of helping clients build generational wealth. To learn more, visit http://www.fiftyhills.com.
About Side
Side transforms high-performing agents, teams, and independent brokerages into successful businesses and boutique brands that are 100% agent-owned. Side exclusively partners with the best agents, empowering them with proprietary technology and a premier support team so they can be more productive, grow their business, and focus on serving their clients. Side is headquartered in San Francisco. For more information, visit http://www.sideinc.com.