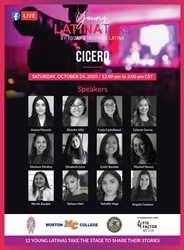 "I wear many hats in what I do and the one that I enjoy wearing the most is serving, elevating, supporting and believing in young Latinas. Sometimes, you choose a mission and sometimes that mission chooses you."
NORTH AURORA, Ill. (PRWEB) November 18, 2020
Eleven young Hispanic women from Cicero, Illinois took to the stage at J. Sterling Morton High School to share their personal stories of overcoming barriers, self-doubt, adversity who exemplify perseverance during the first Young Latina Talks held in Cicero.
Fig Factor Media Publishing in collaboration with the Town of Cicero, Morton College and J. Sterling Morton High School District 201 presented this event. Giving their presentations were the following: Ariana Macedo, Alondra Villa, Carla Castellanos, Angela Campos, Elizabeth Loza, Emily Bastida, Marisol Nunez, Suhailly Vega, Marlene Medina, Nicole Barajas and Tatiana Hart. Speakers went through a nomination process to be chosen to participate.
Young Latina Talks, created by Fig Factor Media Publishing CEO Jacqueline S. Ruiz, is a Ted Talk-style event created in the spirit of widely successful Today's Inspired Latina book series and global movement. This event, which has been done both in-person and virtually across the United States, brings the audience stories from a group of Latinas who have overcome barriers, self-doubt, adversity who exemplify perseverance.
Honored by the welcoming response from Cicero dignitaries, Ruiz was excited to showcase these presenters who had worked diligently in preparing and delivering their messages to a worldwide audience.
"I wear many hats in what I do and the one that I enjoy wearing the most is serving, elevating, supporting and believing in young Latinas," she said. "Sometimes, you choose a mission and sometimes that mission chooses you."
Sharing this sentiment was Town Clerk of Cicero and Young Latina Talks Judge Maria Punzo Arias. Arias, who is originally from Mexico City and a longtime Cicero resident, is a graduate of Morton East High School. When she heard about this event, Arias reached out to Town of Cicero President Larry Dominick, J. Sterling Morton High School Superintendent Dr. Tim Truesdale and Morton College Director of Corporate, Community Outreach & Continuing Education Vanessa Parish and they enthusiastically approved.
"I'm grateful for Fig Factor Foundation, all the wonderful sponsors and judges and most importantly all the courageous women out there—the participants who are making this event possible," she said. "In my eyes, you are all winners. Continue reaching for your dreams!"
Town of Cicero Senior Center Director, Diana Dominick, the wife of Larry Dominick, also expressed her gratitude.
"It's a honor to be here especially to be part of this amazing event," said Diana Dominick, who is originally from Lima, Peru. "I want to say to all the young contestants that, today, will be one winner. But, at the end, just being part of this amazing nomination process, to me, everyone is already a winner."
After the presentations were finished, judges evaluated them and chose Tatiana Hart, founder of Reign Investment Group and a second year Waubonsee Community College student, as the winner of the Young Latina Talks $1,000 Scholarship.
Hart talked about the importance of understanding financial literacy and mental health and the correlation of the two subjects. In 2018, she had achieved financial independence after graduating high school and a plan for her future. Suddenly, she was involved in an auto accident and it almost killed her and the other driver. However, she had lost other things such as her job and her sense of purpose.
"For five months, I was paralyzed with fear," she said. "During that time, I was able to reflect over my year. The number one thing that I learned was that I had spent my entire emotional balance on my relationships, my job and on the luxurious things that I thought I needed in my life. When the time finally came that I needed that energy to take care of myself, it was no longer there. That is when I realized that I was in emotional debt. We need to check our (personal) balance."
Ruiz thanks the following sponsors:

Salon Impressions
BMO Bank
Team Luis Ortiz-Remax
Aracely Markowski
Marsal Avila Law Group
United Scrap Metal
She also thanks the following partners:

Ollin Technology
Elevenik
Yoshida Academy
About Fig Factor Media:
Fig Factor Media Publishing is an international publishing company with a "beeping" heart. Fig Factor Media has helped many authors achieve and support their dream of impacting their communities in the United States, Mexico, and Europe. Fig Factor Media is the official publisher of Today's Inspired Latina. For information, visit
figfactormedia.com.
Today's Inspired Latina
8 Books: 190 Authors: 1 Common Dream
A Today's Inspired Latina™ is an award-winning book series of inspiration and hope, a poignant collection of personal stories that will activate your passion. The series is the largest collection of stories in a book anthology series in the world with 190 to date in eight volumes. These are success stories that need to be told, to motivate our community for generations to come. By overcoming language barriers, self-doubts and other obstacles in their way, these strong Latinas are a great example of how inspiration and perseverance can lead you to happiness and success in business and life. It's a positive, empowering read for anyone sitting on a dream and thinking it can't come true. Today's Inspired Latina™ shows that it can! For more information, visit: http://todayslatina.com. ###