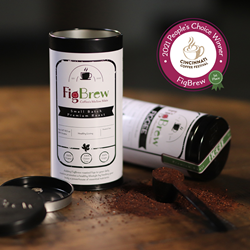 Our brew booth was buzzing and the overwhelming majority of people that tasted our Figgee blend were impressed with the taste
HUNTSVILLE, Ala. (PRWEB) November 08, 2021
FigBrew has received the People's Choice award at the 2021 Cincinnati Coffee Festival held the weekend of Oct. 23. The brand known for its coffee alternative offered samples at its brew booth celebrating coffee culture. The annual event is open to the public and attracts a large number of attendees and vendors.
"We loved having FigBrew at the 2021 Cincinnati Coffee Festival and are so proud of them for being voted #1 in the People's Choice competition," said Judi Cogen, Event Director for the Cincinnati Coffee Festival. "Thousands of guests attended this year and voted in the People's Choice. With over 50 vendors, their win was significant."
The largest coffee festival in the Midwest since 2017, the festival benefits the Ohio River Foundation (ORF), dedicated to protecting and improving the water quality and ecology of the Ohio River and all waters in its 11-state watershed. A cup of coffee is typically 98% water, so it has a natural connection to the ORF mission.
"Our brew booth was buzzing and the overwhelming majority of people that tasted our Figgee blend were impressed with the taste," said Marianne Whitehead, co-founder of Figbrew. "We are honored to be recognized amongst our peers and by the people who enjoy our selections. FigBrew offerings deliver a delicious and healthy alternative to coffee without compromising on flavor. It's a new way for coffee fans to enjoy their favorite beverage."
Founded by a team of coffee lovers, FigBrew uses sun-dried organic Mediterranean figs for a smooth taste with health advantages. Figgee is consumed alone as a coffee alternative or added to coffee. It features a mellow flavor with vitamins and minerals that balance out the harshness or bitterness. The ground offerings are made with roasted figs and look similar to coffee without the acidic taste or caffeine boost. It is easy on the stomach while satisfying coffee cravings.
For more information on FigBrew, visit http://www.figbrew.com.
###
About FigBrew:
Adding FigBrew roasted figs to your daily routine promotes a healthy lifestyle by feeding your body a powerhouse of essential nutrients. FigBrew makes not only the best coffee alternative but also makes your favorite cup of coffee better.