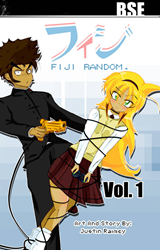 Those who pre-order the title on blackstreakstore.com will receive Fiji Random at a discounted rate, gain a limited edition Fiji Random button-pin and a coupon code for 10% off of a future blackstreakstore.com order
Youngstown, OH (PRWEB) May 30, 2014
Justin Raimey's 2nd edition helping of his manga-inspired teen-comedy graphic novel, Fiji Random: Vol. 1, is available for pre-order with some exclusive extras. Those who pre-order the title on the publisher's official online store, blackstreakstore.com, will not only receive Fiji Random at a discounted rate, but will also gain a limited edition Fiji Random button-pin and a coupon code for 10% off of a future blackstreakstore.com order.
Venture into the world of Fiji Random. A kooky comedy featuring gamer-girl Fiji Maide and her epic struggle to arrive to school on time. This story includes its own unique style with humorous 4-panel comics splashed between the main storyline. Fiji Random is a peculiar tale filled to the brim with milk, sweeties and random high school hijinks.
In addition to new front and back cover artwork, the 2nd edition paperback and eBook formats of Fiji Random Vol. 1 will contain features exclusive to each format, such as artwork and bonus comic strips, so to encourage the reading of both formats. Fiji Random Vol. 1 2nd edition is scheduled to hit bookstores and eBook stores on June 19, 2014.
For Fiji Random Vol. 1 distribution and wholesale information, email: wholesale(at)blackstreakbooks(dot)com. For press inquiries, author interview requests, review copy requests and net galley information, contact Terry L Raimey at press(at)blackstreakbooks(dot)com.