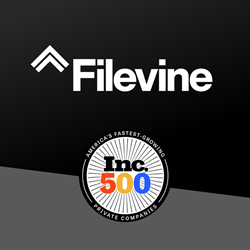 We're witnessing a once-in-a-generation shift in the practice of law.
SALT LAKE CITY (PRWEB) September 22, 2020
Filevine, the operating core for legal, is among the top 50 fastest-growing privately-owned software companies according to the 2020 Inc. 5000 list. The list, which measures company growth over the past three years, found that Filevine ranks 376 among all privately-owned companies in the U.S.
Historical inductees to the Inc. 5000 include Microsoft, Yelp, and Oracle. For the first time, Filevine joins their ranks in 2020, with growth surpassing 1,200% over the past 3 years.
"We're witnessing a once-in-a-generation shift in the practice of law," says Ryan Anderson, CEO and co-founder of Filevine. "Lawyers are notoriously slow to adopt new technologies. But Filevine has made massive inroads into the legal tech market by creating intuitive, streamlined, and profoundly useful technology. As we become the industry standard, we're changing the practice of law to improve the lives of lawyers and their clients."
Filevine has continued its rapid growth through the pandemic, as a cloud-based solution that enables remote legal work. Filevine customer Amber Pang Parra explains, "Despite the pandemic, my department hasn't slowed at all. With the help of Filevine, our case loads continue to grow steadily and we continue settling and litigating cases." Pang Parra leads the Pharmaceuticals, Health Care & Consumer Law Division at the law firm Justinian & Associates PLLC.
On average, the companies that made the Inc. 5000 list have grown 6-fold since 2016, during a time when the economy grew only 15%. Filevine's 1,211% growth is double the average of this elite list.
Complete results of the Inc. 5000, including company profiles and an interactive database that can be sorted by industry, region, and other criteria, can be found at http://www.inc.com/inc5000. The top 500 companies were also featured in the September issue of Inc.
About Filevine
Filevine is a cloud-based operating core for legal professionals and firms. From its launch in 2015, Filevine has focused on rapid innovation and award-winning design. Filevine has earned the highest ratings from several independent review sites for legal technology.